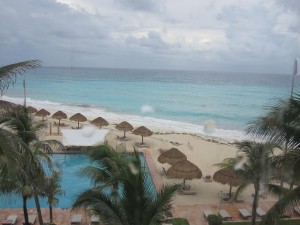 (Reflections in Cancun)
This is the view from our first hotel room. That's right, our first of two rooms.
We arrived in Mexico during a storm. Rain pelted against the window panes, leaking, yes leaking onto our floor.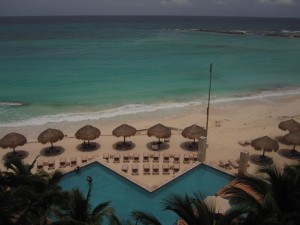 After considering several different rooms with the manager of our hotel, our leaky window was exchanged for a glorious balcony view. You won't hear me complaining!
The rain didn't stop. Palm trees bent under raging wind. Waves slammed onto the shore. Red warning flags dotted the beach. Dark clouds blocked the sun.
Yet, from my new vantage point, all I was focusing on was the beauty of the tropical paradise I'd soon be able to enjoy.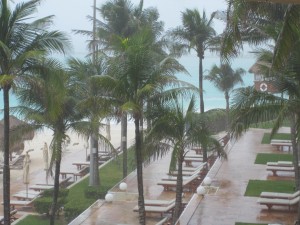 My husband checked the weather before we left, so we were prepared for a wet vacation. Warnings for Hurricane Eduardo had me on my knees. Lord, although I'd love a few days of sunshine, we trust You and Your plan. Please help us have good attitudes and keep us safe during the storms.
It's not like I'm a stranger to storms in life. The waves of heartache and loss have been crashing on my shore pretty consistently over the last year and a half. But, with an eternal perspective, like our balcony view, trials have purpose and hope is always on the horizon.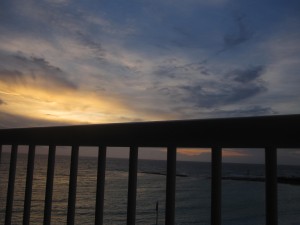 As I stood on our balcony in Cancun soaking in the warmth of the humid air, palm trees bowed under the wind. Lord, help me bend to Your will and trust in Your everlasting love.
The next morning, the sun burst through darkened clouds. I thought of Jesus' words in John 16:
"I have told you these things, so that in me you may have peace. In this world you will have trouble. But take heart! I have overcome the world." (John 16:33, NIV)
The words that sandwich the promise of difficulty are focused on Jesus. My focus needs to stay on Him, too. Not just on God's character, but on His words of promise, hope, and warning.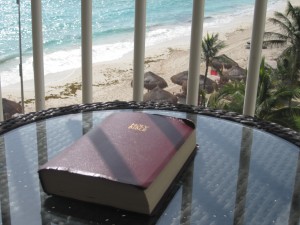 "I have told you these things so that in me you may have peace."
I certainly desire peace, so I went to my Bible to find out what things Jesus had told the disciples.
In John 15:5, Jesus said apart from Him the disciples could do nothing. In John 16:28, He told them He was leaving them. Then, In John 16:33, He said they could have peace in Him. On the surface, these verses made no sense to me. It wasn't until I dug into Scripture that I began to recognize the things that would help the disciples face trials with courage and steadfast faith.
Jesus acknowledged the disciples as loved and chosen (John 15: 12, 16). He encouraged community as He commissioned them to love one another (v. 17). He reminded them that the Holy Spirit would come (v. 26) and guide them into all truth (John 16:13).
Jesus assured the disciples that the Father loves them because they loved and believed in Him, the Son. Then, He warned of upcoming persecution, through which the disciples would be scattered.
"You will leave me all alone. Yet, I am not alone, for my Father is with me." (John 16:32b, NIV)
These words remind me that Jesus understands abandonment, betrayal, loss, loneliness, sorrow and pain.
Just like we expected storms in Cancun because of the weather reports, the disciples expected trouble because Jesus predicted upcoming trials. Their flesh won and they scattered in fear and weakness. I can relate to that.
Yet, after personal encounters with the risen Savior and receiving the gift of the Holy Spirit, the disciples walked boldly through persecution with a vibrant hope in God's promises. Their eyes fixed on the horizon of eternity with Jesus.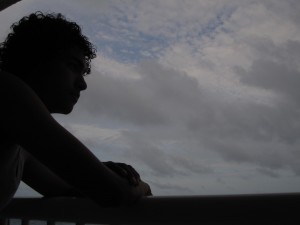 As we face storms in our lives, that same proper perspective can infuse us with peace.
Jesus has overcome the world! Though heartache and trials are inevitable, they don't have to steal our joy. Our faithful Savior gave His life so that we can be reconciled with God.
By connecting with Jesus daily and acknowledging His presence in every circumstance, we can see past the storms of this life and catch a glimpse of Paradise. Hallelujah!
"Blessed is the man who perseveres under trial, because when he has stood the test, he will receive the crown of life that God has promised to those who love him." (James 1:12, NIV)
How does God help you see past the storm?
—–
Photos by X. E. Dixon & W. Alan Dixon, Sr.
—–