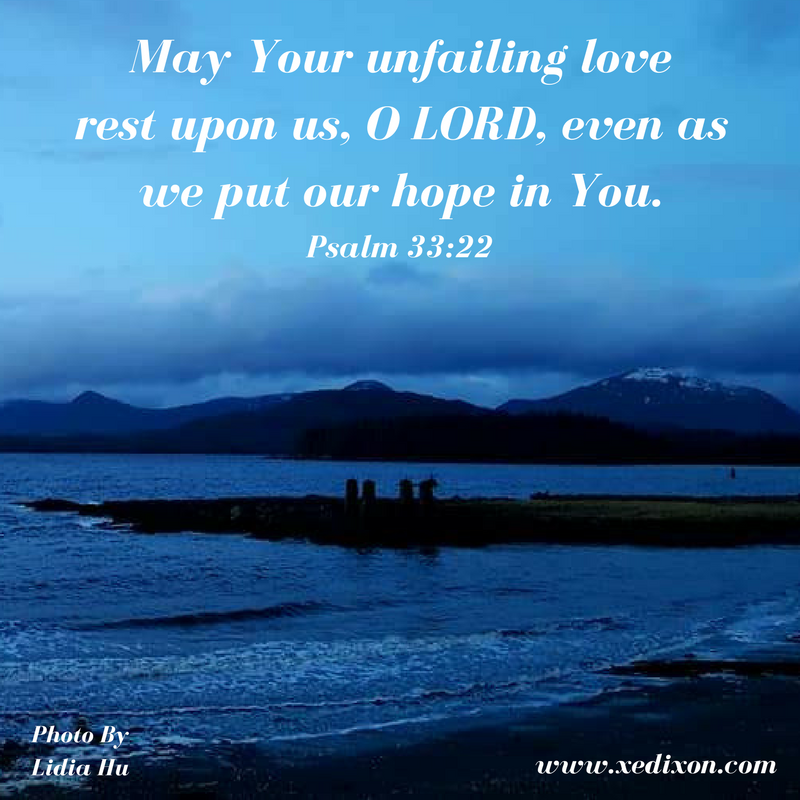 (Suggested Reading – Psalm 33)
Staring out the window of our hotel room, I scowled. We were supposed to be celebrating my husband's birthday while in Kauai. Instead, I remained bedridden for the first few days of our vacation. My frustration quickly nudged me into a funky mood that triggered a full-blown pity-party.
The more I complained about my unfair circumstances, the more discontent I became. My grumpy attitude began to rub off on Alan, who had been doing all he could to nurse me back to health and improve my usually positive perspective.
While my sweet caregiver braved the rainstorm to pick up dinner from one of my favorite restaurants, I crossed the room and stared out the window.
Who was I to be complaining when my loving spouse was driving through the storm to make my evening a little brighter? Who was I to think I deserved better than the incredible blessing of celebrating my husband's birthday in Kauai? When had I allowed discontent to demolish my hope?
By the time Alan returned, the Lord had given me a much-needed attitude adjustment. I apologized and thanked my husband for the delicious meal. We watched a movie that night and were able to enjoy short outings for the rest of the week.
Whether our lives are going well or we're right smack in the middle of difficult trials, griping can blind us to the wonderful glimpses of hope God places right before our eyes.
We can miss the opportunity to experience peace in the presence of the only One who can offer a foundation of everlasting hope.
No matter what kind of day we've had, even when our circumstances feel bleak, we can find reasons to celebrate God, to rejoice in the surefire hope He's placed at the tips of our fingers, to enter His presence with a joyful song of praise (Psalm 33:1-3).
Why? Because "the word of the LORD is right and true; He is faithful in all He does." (v. 4)
Every infallible, life-transforming word of Scripture affirms God was and is and always will be "faithful in all He does."
The sound of God's voice holds eternal power to make and maintain everything in the world, yet He makes time to hear us and care for every detail of our lives (vv. 6-7).
When we gripe about our circumstances, we're telling God that He isn't enough for us.
But God is enough.
As the psalmist proclaims the evidence of God's divine power and supreme greatness, we can confidently place our hope in the Lord and submit to His authority. He's proven to be worthy of worship and reverence (v. 8).
The Maker of all secures it all (v. 9). His plans for each of His beloved children are ordained before we took a breath.
Still, we doubt Him when things don't go our way?
We can stand firm on God's purposes and promises, because we can count on His unchanging character (v. 11).
He who formed our hearts, knows our hearts and all we think, say, and do (vv. 13-15). The greatest leaders of the world combined are no match for our God (vv. 16-17).
So, why do we push Him away or feel betrayed when things get rough?
We can't run away or hide from Him. We can't make Him stop loving us, caring about us, or pursuing us.
We may feel far from God, forgotten by God, or even failed by God when the days are long and hard. But we can be sure that "the eyes of the LORD are on those who fear Him, on those whose hope is in His unfailing love" (v. 18).
Fear, meaning to revere, honor, acknowledge His majesty, know and trust His sovereign goodness and limitless might.
Hallelujah!
God's trustworthiness ensures our hope in His reliability, so we can live with surefire faith and join the psalmist in singing:
"We wait in hope for the LORD; He is our help and our shield" (v. 20).
Even when we feel rushed or anxious to lunge forward, we can be certain God works at the perfect pace for our personal journeys.
He longs for us to sing: "In Him our hearts rejoice, for we trust in His holy name" (v. 21).
We can rely on El Shaddai‒Lord God Almighty.
We can cry out to El Elyon‒The Most High God.
We can lift our hands to Adonai‒our Lord and Master.
We can rest in the arms of Jehovah Shalom‒the Lord is Peace.
We can follow Jehovah Raah‒the Lord our Shepherd.
We can trust the heart of Jehovah Jireh‒our Provider.
And we can wait expectantly for Jehovah Rapha‒The Lord that Heals‒whether our healing comes on this side of eternity or when we're welcomed into the arms of our Savior.
When we're self-focused or dedicated to self-help, it's too easy to start losing our joy, shattering our peace, and dimming our once radiant light of hope. Even the blessings seem a little duller when we're devoted to seeking self-satisfaction.
But when we cry out to the Lord, asking Him to empower us to live in surefire faith and grateful joy, we place every ounce of our hope in the infinite and immutable power and promises of His name.
"May Your unfailing love rest upon us, O LORD, even as we put our hope in You." (v. 22)
Hallelujah! Hallelujah! Hallelujah!
—
Photo taken by and used with permission by Lidia Hu.
Meme created by Xochitl E. Dixon.
—–