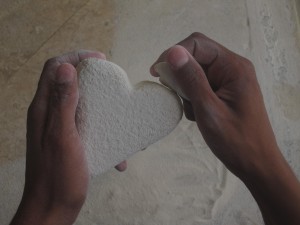 (Cancun Reflections)
My son found a large clump of Limestone on the beach. A plan sparkled in those beautiful brown eyes as his smile broadened. He scoured the shore until he held up his second prize, a small white rock.
His souvenirs didn't look like much to me, but the joy on his face sparked my curiosity.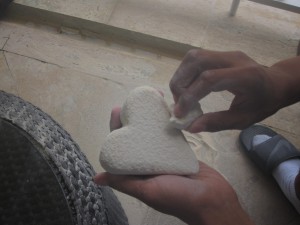 Later that afternoon, I woke up from a two-hour-plus nap and stepped out onto the balcony to find my son hunched in a chair. A pile of sand dust accumulated at his feet as he carved the clump of Limestone he'd found earlier.
He scraped back and forth across the Limestone with varying pressure. Once in a while he'd stop to brush away the fine dust until the edges smoothed into a beautiful heart shape.
Xavier held the sculpted treasure in his sand-sprinkled palm, at arm's length. "Look," he said. "It's perfect."
I agreed and thought of how God uses friction in my life to sculpt my clump of a heart to reflect His perfect love.
Unlike the Limestone, I often cling to the grains of sin that hide the beauty of Christ in me. Fear. Doubt. Pride. Selfishness. Unforgiveness. Everything that hinders a life of freedom in God's love will be carved away and brushed into the wind, if only I can trust my faithful Savior.
"But it hurts to let go, Lord."
I am with you.
"But what if I can't?"
I am your strength.
"But?"
Do you trust Me?
"But?"
Do you love Me?
"But?"
Do you truly believe the extent of My love for you?
I had memorized Proverbs 3:5-6 years ago. But as I watched my son smile and place his masterpiece on the table, I understood God's plea on a deeper level.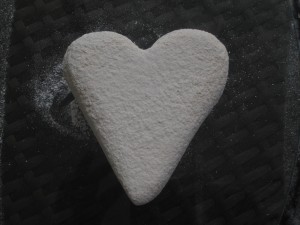 "Trust in the LORD with all your heart and lean not on your own understanding; in all your ways acknowledge him, and he will make your paths straight." (Proverbs 3:5-6, NIV).
The Hebrew word for trust used in this verse, b??a?, means "to rely on, to put confidence in, to feel secure." Yet, so often I'm tempted to cower, listening to voices that shove me away from what God is nudging me toward.
So often I hold back a piece of my heart from God in a vain attempt to avoid pain, loss, or failure. Sometimes I even hold back in fear of success. What will I do if God says yes and I can't do my part?
As I prayed and studied deeper, I discovered that b??a? can also mean "to stumble, fall to the ground." The first image that came to my mind was falling prostrate before God. Although this image portrays worship, it can also mean "going to death."
It's no surprise that, during the heartaches and struggles the Lord has brought me through, the only times I felt peace was when I chose to die to self.
When I follow the Lord in obedience and faith, even when it hurts, even when I'm afraid, even when I don't understand, He scrapes off my insecurity and brushes it into the wind.
But it's hard to trust when I'm holding back even the smallest piece of my heart from God.
He wants my complete devotion and obedience. He wants me to acknowledge Him in every situation, to trust Him with every aspect of my life.
I'm not talking about a mention of His name in passing or an over-the-shoulder "Praise God!" The Hebrew word for acknowledge in this verse, y?da', means "to know intimately and be known intimately." This concept is based on experience, not just factual knowledge.
This depth of intimacy with Jesus is developed as we practice trusting the sculpting hands of our Savior in every circumstance.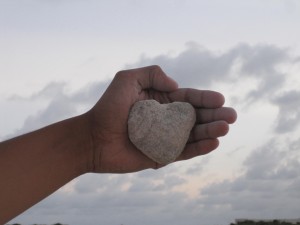 Thank You, Lord, for reminding us You delight in Your beloved creations. Reveal the areas in our lives where we're holding back from You, Lord. Help us trust You recklessly, knowing we're held secure in the center of Your will. In Jesus' name, Amen
What are you clinging to that may be hindering you from experiencing freedom through God's life-transforming love?
—–