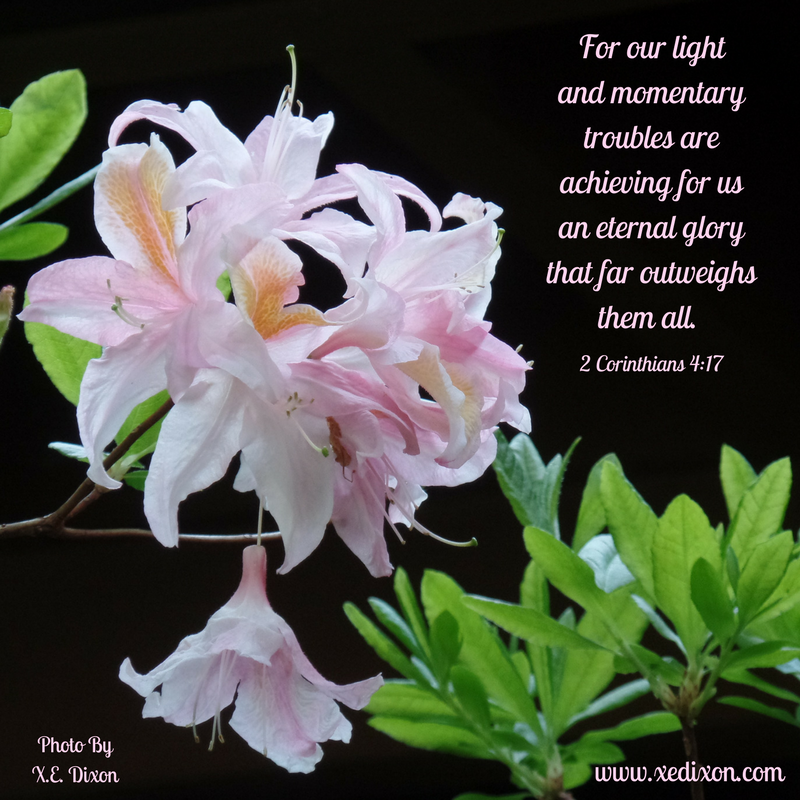 To respect my husband's family tradition, we visited the cemetery on Memorial Day and brought new flags, in honor of his father's service in the military. Although we know we don't have to visit the cemetery to honor or remember his dad, although we know he had accepted Christ as his Savior and that his spirit is secured with the gift of eternal life, we place new flags on his headstone once a year.
On the way back to the car, I noticed the raised words on a sailor's gravestone: World War I & II.
Weeds crawled over his name and dying year . . . 1975. No flowers. No decorations. Just weeds.
I glanced at the faded flags we'd taken out of my father-in-law's marker a few moments earlier.
Every year, we drove to the cemetery to pay our respects to my husband's dad. But there would come a time when no one would visit, when everyone who knew him would be gone.
The sailor's headstone reminded me that there would come a day when all of us are forgotten on this side of eternity.
I'm sure we won't be worrying about being remembered by other people when we're praising God in eternity, but the thought of anyone being forgotten grieved me.
Kneeling before the sailor's headstone, I twisted and pushed the wooden dowel until I'd secured the flag in the dry, cracking dirt. "Thank you, Sir," I said.
Alan knelt beside me, without saying a word. He took the second flag from my hand and planted it deep into the ground.
I gazed across the yellowing grass dotted with grave markers and small waving flags and sighed. A group came every year to remember and honor veterans. We'd seen them before, placing new flags on the military headstones. The fresh flags waving in the slight breeze affirmed they'd finished their yearly task. Still, even they'd missed this lone sailor with the weeds covering half of the identifying words under his name.
I began plucking the overgrowth. "It's sad," I said, "the idea of being forgotten."
My husband nodded. "We'll bring extra flags next year."
"I'd like that very much."
And so began a tradition.
Even though there could be people who remembered these veterans without visiting the cemetery, and even though we believe our spirits live forever in eternity when we place our trust in Christ, we committed to bringing extra flags for those whose stories had long since stopped being shared with eager ears seeking to learn more about their families' history.
We would be more intentional about thanking God for those who had given their lives to protect our freedom, those who had served sacrificially, those who had probably never imagined having weeds over their headstones, those who had never dreamed of the day they would be forgotten.
As the reality of my mortality sank in, God comforted me with the assurance that He knows each of us by name and loves each and every person He creates, even when we reject Him.
God knows us, cares for us, and will never forget us. He wants none to perish, and all to be restored in His love and grace (John 3:16-17; 2 Peter  3:3-9).
Gratitude filled my heart as I, once again, received His truth on a deep and personal level: God knows my name. He is always with me. He will never leave me, never forsake me, and never, ever forget me.
I never imagined there would come a day when I was concerned about being forgotten, until an injury and an extensive recovery time led me into a season of isolation.
These have been the most difficult days I've ever experienced.
When feelings of loneliness and sorrow threaten to destroy every bit of my joy, peace, hope, and faith, the Lord comforts and strengthens me with His constant presence and His infallible Word.
He's increasing my compassion for the forgotten ones, the lonely ones, the hurting ones in the world.
He refreshes my hope by empowering me to live and love each and every day, in honor of our Savior Jesus Christ . . . because even when life is hard, this world is not where our lives end.
"Therefore we do not lose heart. Though outwardly we are wasting away, yet inwardly we are being renewed day by day. For our light and momentary troubles are achieving for us an eternal glory that far outweighs them all. So we fix our eyes not on what is seen, but on what is unseen. For what is seen is temporary, but what is unseen is eternal." (2 Corinthians 4:16-18, NIV)
We may not know what tomorrow brings, but we know there will come a day when all of the people who knew us will be gone. That's no reason to lament.
Because of our new life in Christ, we can leave a legacy of faith that points others to His everlasting hope.
Lord, thank You for empowering us to make a lasting difference in this world by living and loving in the name of Jesus‒praying for others as we share Your Holy Word, and serving selflessly as we lead others to You‒the only One who can truly promise You will never leave us, never forsake us, and never, ever forget us. In Jesus's name, Amen.
"As a father has compassion on his children, so the LORD has compassion on those who fear Him; for He knows how we are formed, He remembers that we are dust.
As for man, his days are like grass, he flourishes like a flower of the field; the wind blows over it and it is gone, and its place remembers it no more.
But from everlasting to everlasting the LORD's love is with those who fear Him, and His righteousness with their children's children‒with those who keep His covenant and remember to obey His precepts.
The LORD has His throne in heaven, and His kingdom rules over all." (Psalm 103:13-19, NIV)
Hallelujah! Hallelujah! Hallelujah!
—–