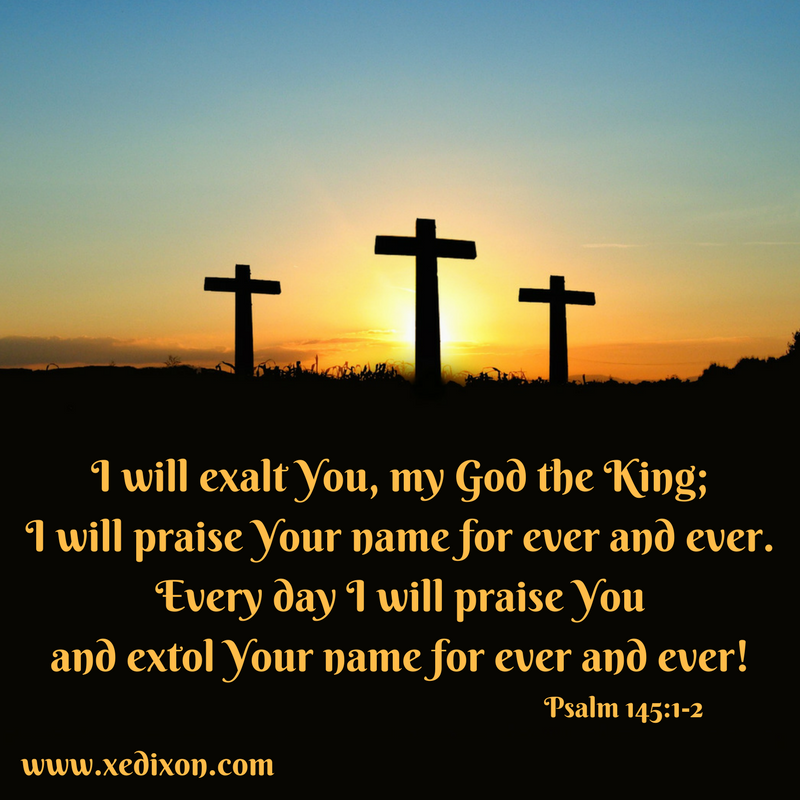 (Suggested Reading: Psalm 145)
As I continue to grieve the loss of a beautiful sister in Christ, I'm missing her Facebook posts. I'd always enjoyed the way she praised God in all circumstances and prayed for others, her hope firmly anchored in unshakeable faith, even as she battled cancer.
I've noticed a common thread as I read posts and comments shared by others who are grieving her loss and celebrating her inspiring life. Suzanne loved God and saw His fingerprints in every aspect of her life, much like David−the writer of Psalm 145.
David begins his love song by committing to a lifetime of praising the Lord:
"I will exalt You, my God the King; I will praise Your name forever and ever. Every day I will praise You and extol Your name for ever and ever." (Psalm 145:1-2, NIV)
David proclaims God's greatness will be passed on to future generations, as His people share who He is and all He's done (vv. 3-7).
The psalmist affirms the Lord's goodness, graciousness, compassion, and loving patience (vv. 8-9). While pointing out God's fingerprints in his life and in the lives of those around him, David gets caught up in praise and changes his focus.
Instead of merely telling others about the wonders of the Almighty, he immerses himself in worship.
The recording of his testimony becomes an intimate conversation with the King of Kings.
I often find God's fingerprints more easily in situations when I'm writing about the things He's done, the things He's taught me, and the things He reveals about His character as I read His God-breathed words in Scripture.
By inviting Him into my writing process, I can get so caught up in what I'm sharing about the Lord that I become drawn into a time of intimate worship, praise, and prayer.
Like David, in Psalm 145, my focus switches from serving God by pointing readers to His Word to sitting at my Master's feet and gazing into His face.
Whether we're writing, singing, teaching, or chatting with a friend, something powerful happens when we join forces to help others find God's fingerprints in the world around us:
"They will tell of the glory of Your kingdom and speak of Your might, so that all men may know of Your mighty acts and the glorious splendor of Your kingdom." (Psalm 145:11-12, emphasis mine)
As we point to the Lord and proclaim His greatness, our own faith deepens and our testimonies become psalmist's songs that we can't keep to ourselves (v. 13).
We can burst out in joyful praise and say:
"The LORD is faithful to all His promises and loving toward all He has made. The LORD upholds all those who fall and lifts up all who are bowed down." (v. 13b-14)
Like David, we can become so enthralled by God that we turn back to Him with grateful confidence in His provision (v. 15-16).
We can celebrate His loving righteousness toward His people (v. 17).
We can rejoice in His constant presence, His sovereign care, and His promise to listen to those who call on His name (v. 18-20).
The psalmists and my precious friend Suzanne recognized God's fingerprints in their lives, in the lives of those around them, and in Scripture.
When we do this, the Lord can strengthen our resolve, comfort us, and empower us to tell everyone how wonderful He is and always will be, no matter how hard our current circumstances feel.
We, too, can sing:
"My mouth will speak in praise of the LORD. Let every creature praise His holy name for ever and ever." (Psalm 145:21)
Hallelujah! Hallelujah! Hallelujah!
Thank You, Lord, for the allowing us to experience Your loving grace, encounter You intimately as we prayerfully study Your Word, and exalt You as we share Your truth and love. Please fill us with wisdom and courage we need to speak or write words that will glorify Your name and testify about who You are and all You've done. In Jesus's name, Amen
—–
Meme created by Xochitl E. Dixon, using free photo from Pexels (April 30, 2017).
—–