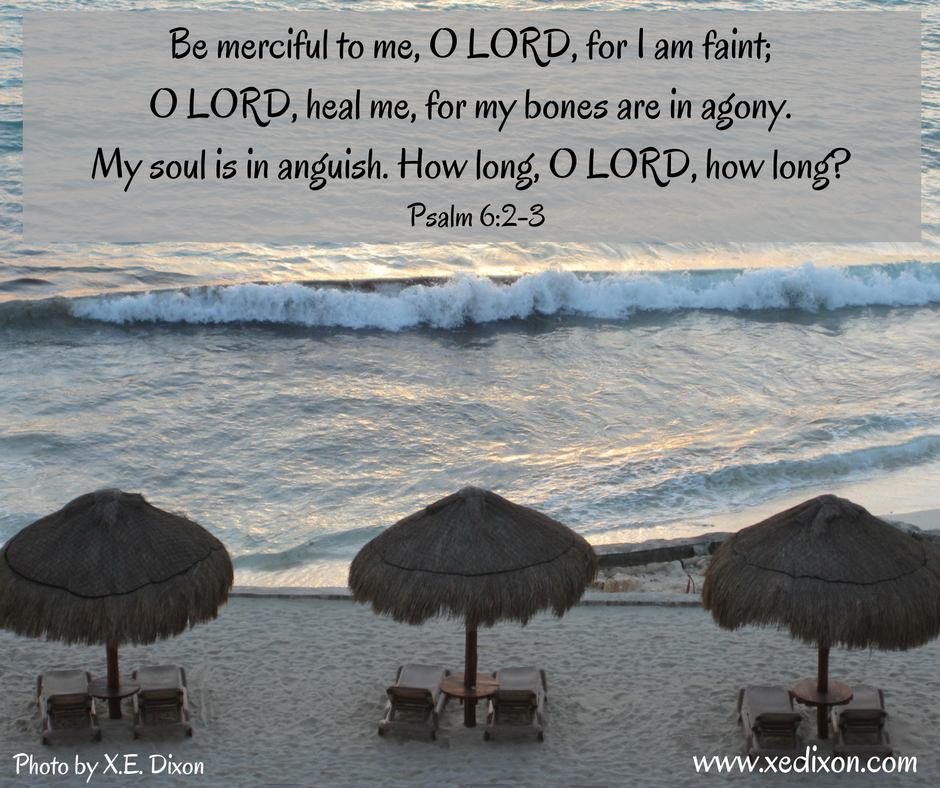 (Suggested Reading: John 5:1-14)
During my last procedure, medical assistants in blue smocks, shoe coverings, and caps bustled around the pre-op room as one of my favorite nurses led me to the middle of three gurneys. "I'll bring you a warm blanket." She handed me an open-back gown and clutched a fistful of curtain. Metal rings scraped on the metal bar as she swooshed the fabric walls closed.
Soft moans confirmed the pain of the patient in the make-shift room next to me. I understood how one wrong move could cause a flood of tears.
I prayed for my medical team and thanked God for the prayer warriors who were interceding for me through social media. I prayed for the hurting stranger on the other side of my curtained shack.
There have been days during my healing journey that I praised God for using my experiences to give me deeper insight and genuine compassion toward others who were hurting. There have also been days I begged the Lord for relief from chronic pain, for an end to my suffering.
I've cried out the prayer of David: "Be merciful to me, LORD, for I am faint; O LORD, heal me, for my bones are in agony. My soul is in anguish. How long, O LORD, how long?" (Psalm 6:2-3, NIV)
I'm writing this post as I recover from one of the worst pain days I've had in months. Jesus's words brush against my tear-stained cheeks.
"Do you want to get well?" (John 5:6b)
The Lord was addressing a man too sick to care for himself for almost four decades.
Four decades.
That man must have begged for relief. He might have cried for mercy. He may have wondered if it would be easier to give up.
So, why did Jesus ask if the man wanted to get well?
If this man didn't want healing, he wouldn't have been waiting at the pool near the Sheep Gate. He must have known he would never be the first one to the water with no one to help him. His wait must have felt useless and lonely.
Still, though clearly focused on his lack of resources and strength, the hurting one clung to a fraying thread of hope and waited on the Lord.
Would healing come today?
Jesus, in His all-knowing love, knew the man's road to wellness wasn't going to end near the Sheep Gate. The Lord reveals a bigger plan when He encounters the man at the temple in verses 14-15.
"See, you are well again." (v. 14)
The man wasn't always afflicted.
"Stop sinning or something worse may happen to you." (v. 14)
Some may suggest this statement confirms the man's sin nature caused his suffering. But as we read Scripture, we're assured God doesn't punish His beloved children for sport. In these words, I recognize the same invitation the Lord has extended to me, the invitation He extends to all people.
Stop sinning. Obey Him, which translates plainly to love God. What is the something worse that may happen? Eternity separated from God.
Jesus gave the man a reason to believe without a doubt, a miracle that touched close to home, and then invited him to enter an intimate, committed relationship.
"If you love me, you will obey what I command." (John 14:15)
The journey toward this man's wellness required a first step of faith, so the Messiah said to the man, "Get up! Pick up your mat and walk."
Get up! Believe. Take action.
Pick up your mat. Don't forget past experiences, but accept the freedom God has granted.
Walk. Move forward. Believe the Lord with ongoing confidence and persevering faith.
The man responded to Jesus in loving obedience.
Christ could have chosen to say yes to a partial healing, and even no to healing on this side of eternity, but He chose to say yes to this man's miraculous and immediate healing.
Because my Creator and Savior is God, He has the right to determine how He answers my prayers as I follow Him in loving obedience.
Knowing this truth doesn't mean the wait goes without struggle, though.
Sometimes, I need to process through complete melt-downs, whining pity-parties, and full-blown-on-the-ground-face-down-sob-prayers.
As God's Spirit kneads His truth into my mind, His Word affirms His deep love, His constant and mighty presence.
I hear the question Jesus asked the man as a personal invitation.
Do I want to get well?
Well (hygiē), meaning "healthy, sound, cured, freed."
Do I want to be physically, mentally, emotionally, and spiritually well, even if my God-ordained steps toward healing include long-suffering?
The path toward wellness begins with a personal encounter with Jesus, and leads to His call for loving obedience through faith.
As Christ followers, our primary goal is holiness, which often requires traveling through painful valleys. But by God's incredible grace, we don't have to feel as alone as the man by the Sheep Gate.
When Jesus stirs our hearts and asks if we want to get well, we can answer yes.
We can rely on His timing and rest in the goodness of His character, as we rejoice in the perfection of His plan.
And, we can reach out to others and receive the support of His people, physically and through the priceless gift of intercessory prayer.
Lord, thanks for reminding us You are always with us, always working, and always enough. Your grace penetrates through the moments when weariness and discouragement overwhelm us in the wait. Please help us submit to Your purpose and Your plan, even when we can't see the hope around the bend. In Jesus's name, Amen
—–
How do you feel when God doesn't choose to bless you or someone you love with healing or pain relief?
How does the Lord comfort you during the wait?
—–
Photo taken and meme created by Xochitl E. Dixon
—–