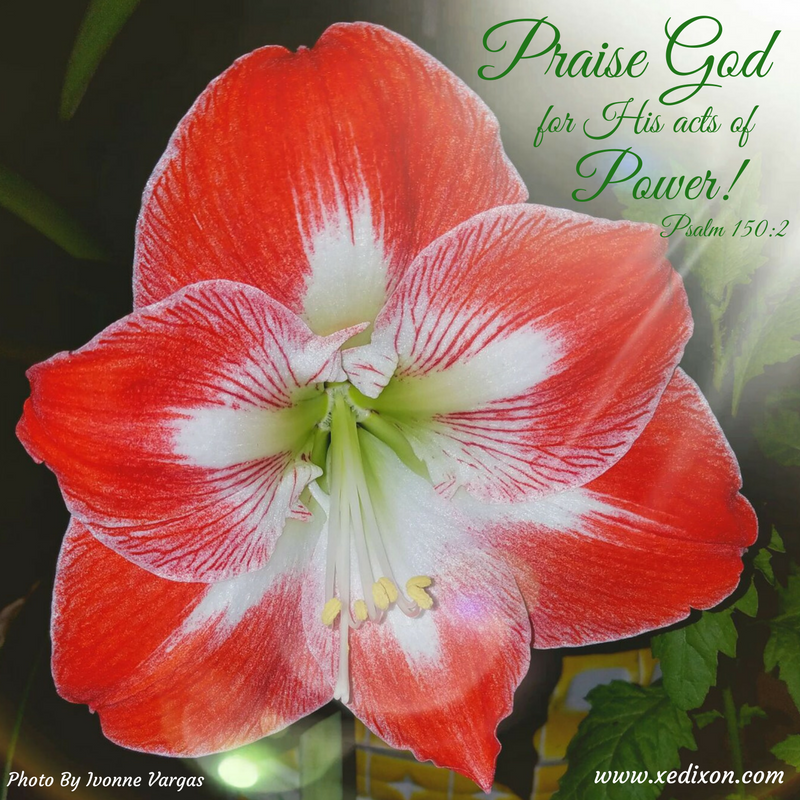 (Suggested Reading: Psalm 150)
During my last appointment with my doctor, I thanked him for helping me improve over the last five years. Although I still struggle with chronic pain, I'm better than I was when I started this trek in September 2012.
I rejoiced over the little things I can do now, like writing for longer periods of time. I reveled in the small victories and even appreciated the battles that God used to strengthen my resolve and remind me how much I need and depend on Him.
It haven't always embraced His peace. Sometimes, I struggle with discouragement, weariness, and doubt. But God's been patient as He helps me experience the endless hope of surrender and contentment founded in knowing His ways are good because He is good.
After my appointment, I suffered another bout with severe spasms and a debilitating headache that lasted over 14 hours. The next morning, I praised the Lord. Why? Because those painful flare-ups have lasted for days in the past.
As I thanked the prayer warriors who interceded for me, even before they knew I was struggling, God reminded me about the power of praising Him through all circumstances.
When we begin to count the ways God's been good to us and practice honest praise, it's harder to drown our hope in discouragement.
The psalmists practiced honest praise.
They processed their emotions and shared their struggles. They recounted God's merciful and mighty acts, always returning their focus to His unchanging goodness, unlimited power, and unhindered demonstrations of love.
The Lord doesn't expect us to stuff our feelings or minimize our hurt. He doesn't want us to pretend we're perfect or act as if we never struggle.
He knows us, inside and out, and wants us to be real with Him . . . and others.
God can handle our mixed emotions. He can change our confusion to clarity, as we seek Him in His Holy Word. He can replace our anxiety with confidence, our uncertainty with wisdom and discernment. He can meet us in our weakness and empower us to stand firm in faith.
When we're feeling weary, battling doubt, or ready to quit, God beckons us to lift our chins, inhale His peace, and exhale a whisper of praise.
The more we breathe in the countless ways the Lord has been good to us, the more we can sing His praises and trust His unchanging goodness.
A praise list begins with one thing that we can be grateful for, one thing we'll choose to give thanks for. That one thing can incite our endless worship and gratitude as we praise the Father of Compassion, the Maker of the Universe, the Sustainer, Redeemer, and Deliverer whose love transforms us and changes the way we approach life.
One thing.
We can praise God for the heavens, the starry skies that light the darkest nights, the sunsets that make us gasp in awe of His creativity, the puffs of clouds and rays of sun that warm our hearts with hope (Psalm 150:1, NIV).
We can praise God for His miracles, as well as the quiet moments when He simply makes His presence known (v. 2).
We can praise God for His greatness (v. 2). Oh, how the list goes on when we count the ways that God is great. Hallelujah!
Nothing compares to the magnitude of God's love for us, the depth of His compassion for us, the measure of His sacrifices for us.
His greatness is revealed in His unchanging character, the perfection of His God-breathed words, and the dependability of His faithfulness.
We can praise God with the music we make and as we enjoy the songs nature sings for us (vv. 3-5).
We can count the ways He is great as we appreciate every detail in His vast creation, from the sweetness of honey to the intricate paint strokes on each flower petal He decorates.
Our great God listens to us, even when our prayers are silent tears that slip down our cheeks. Hallelujah!
Our great God remains with us, even when everyone else seems to have deserted us. Hallelujah!
Our great God understands us, even when we don't understand ourselves. Hallelujah!
Our great God loves us . . . He loves us.
Hallelujah! Hallelujah! Hallelujah!
When we're counting the ways God loves us, the ways God has been there for us, the ways God has provided for us, the ways God has protected us, our praise will flow.
Hallelujah!
Lord, thanks for the opportunities to reflect on who You are, what You've done, and how much You've given us. Please fill us with gratitude as we consider all we have, instead of what we feel we lack. Help us appreciate every breath we take as a priceless gift to be treasured. Help us recognize every morning we wake up as another chance to praise You, to get to know You more, and to share You with others. In Jesus's name, Amen.
—–
Photo taken by and used with permission from Ivonne Vargas.
Meme created by X. E. Dixon.
—–