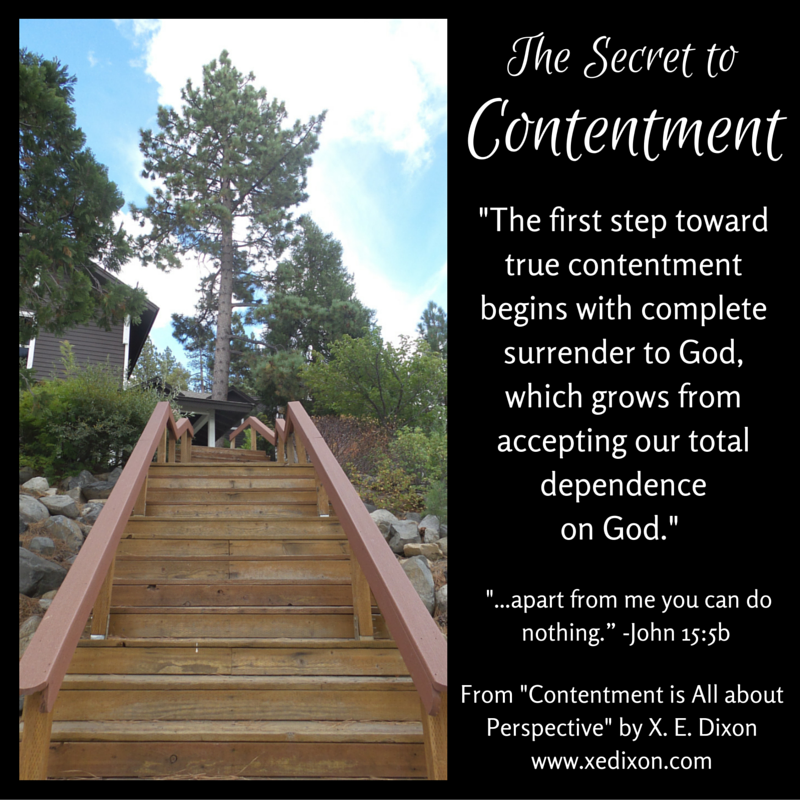 Suffering with chronic pain, praying for adult children (enough said), struggling with standing by as loved ones hurt or spiral into sin, trusting God as He refines my character through individual conflicts and painful situations, and sometimes feeling like I'm battling with my best friend and husband over ridiculous things can destroy every hope of peace.
But, by the grace of God, these moments haven't snuffed out my Spirit-empowered peace, joy, or gratitude.
While I've had to process my feelings, take action and make boundaries when necessary, and release each situation into God's capable hands through prayer, I've been blessed with a strange sense of contentment during these tough times.
Through these trials, I've realized the "secret" to contentment has nothing to do with positive thinking, avoidance, or minimizing my emotions. In fact, it's not about self at all.
The first step toward true contentment begins with complete surrender to God, which grows from accepting our total dependence on God.
As we adjust to the concept of living completely surrendered to and dependent on God, our vision changes and our choices become simple and clear.
We can:
A. Rebel against God by questioning His character, criticizing His plan, doubting our value, comparing ourselves to others, or complaining about the hand we've been dealt.
Or
B. Trust God's unchanging character, unconditional love, sovereign goodness, and immeasurable grace, as we rely on His Holy Spirit to help us live according to His life-transforming truth.
If we choose to cling to the wisdom in option B, we can expect God to help us do these six things during difficult seasons of our lives:
1. Trust God's Word as inerrant, relevant, and purposed truth, the flawless inspired words of God Himself.
"All Scripture is God-breathed and is useful for teaching, rebuking, correcting and training in righteousness, so that the man of God will be thoroughly equipped for every good work." (2 Timothy 3:16-17, NIV)
We can rely on the Holy Spirit to help us understand and obey Scripture as authoritative, even when we're tempted to compromise our faith or base our beliefs on our opinions or popular theories, rather than the Bible. There is one truth: Jesus. If we believe in Him, we'll believe Him.
2. Understand we can do nothing without God.
Jesus said, "I am the vine; you are the branches. If a man remains in me and I in him, he will bear much fruit; apart from me you can do nothing." (John 15:5, NIV)
God won't force us to obey Him, because true love is not about bondage. But He loves us too much to allow us to remain separated from Him forever; and sin has and always will separate us from God. When we realize how much we need God, we'll be able to depend on God to help us surrender to God. Living in that sweet spot of surrender that leads to the freedom of obedience to God, we won't be bound or controlled by fears, limitations, feelings of inadequacy, or our sinful nature.
3. Live like we believe we are saved by grace, not works.
"For it is by grace you have been saved, through faith− and this not from yourselves, it is the gift of God− not by works, so that no one can boast." (Ephesians 2:8, NIV)
When we believe we're saved by grace, we won't feel the need to attach our value to our accomplishments, failures, struggles, or abilities. We'll know who deserves the glory in all things and for all things. We'll know we're wanted, not needed, by our all-sufficient and self-sustaining Creator and Redeemer. There's great joy and freedom in knowing we're saved by His power, because of His goodness and love, and used for His purpose as He sees fit.
4. Serve God and people, knowing nothing we do is useless when we're motivated by love for God and people.
"Therefore, my dear brothers, stand firm. Let nothing move you. Always give yourselves fully to the work of the Lord, because you know that your labor in the Lord is not in vain." (1 Corinthians 15:58, NIV)
God commands us to love the Lord with all of our hearts, souls, minds and strength. He doesn't command us to just believe in Him, or to just be a good person. The demons believe in God, and tremble. Jesus says if we love Him we'll obey Him and obedience will not be a burden to us. Love motivates us to give everything, to risk everything for the object of our devotion. Whatever we do in the name of Love is a gift of gratitude and adoration. God uses every love offering in the way He deems necessary. Our Almighty King of Kings is never wasteful.
5. Accept our small part is a deliberate and important part of God's bigger purpose for the Body of Christ.
"But God has arranged the parts in the body, every one of them, just as he wanted them to be." (1 Corinthians 12:18, NIV)
Comparing ourselves to others stems from being dissatisfied with ourselves. In essence, we're saying God didn't know what He was doing when He created us and planned every day of our lives before one of them came to be. Comparison is a rebellious expression of doubting His sovereign, loving goodness and forgetting this world does not revolve around us or for us. We're each valuable members of the body of Christ, each designed with purpose for the whole and as a part of the whole. Loving God means trusting Him enough to believe He knows what's best, which helps us rejoice as He uses us and others according to His will.
6. Understand reliance on God, who cannot be thwarted by our shortcomings, means we aren't limited either.
"I can do everything through him who gives me strength." (Philippians 4:13, NIV)
Though we can feel puny in this big ol' world, God is and was and always will be limitless. We can do everything through Christ doesn't mean He'll empower us to do things for our benefit or to satisfy our greed or pride, though. Paul's message in Philippians 4:13 is a reflection of David's confidence proclaimed in Psalm 29:  "The LORD gives strength to his people; the LORD blesses his people with peace" (v. 11). The vital detail, that many might like to skim over or ignore, is that both David and Paul have recorded histories of living fully surrendered to and completely dependent on God.
A life surrendered to and dependent on God is a daily commitment requiring a willingness to trust His unchanging character in and through seasons of stillness or hardship.
We can experience heart-deep peace once we accept our lives are secured and valuable because of who God is and what God has done, not what we do, what we have, what we accomplish, or the details of our current circumstances.
In the light of His truth, we begin to see our current circumstances are just that, current circumstances.
We can praise Him with every breath as we remember God's ultimate purpose magnifies God's limitless power.
Lord, thank You for revealing Your unchanging truth and trustworthy character. Please give us wisdom and courage to be completely dependent on You, as we experience the freedom, peace, and joy of being totally surrendered to You. In Jesus' name, Amen
—–
Photo taken by and Meme created by X.E. Dixon
—–