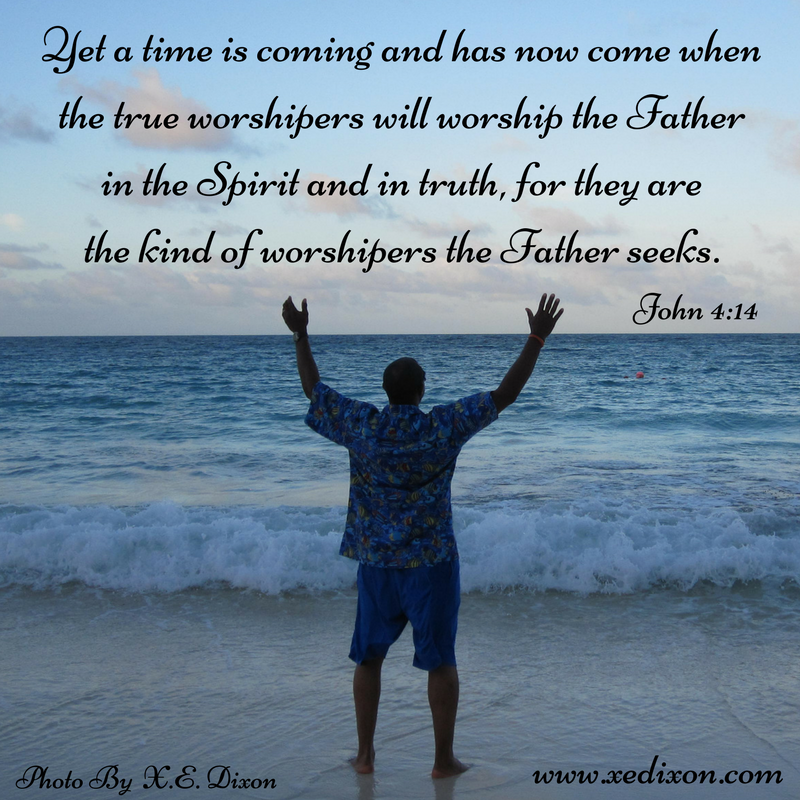 (Suggested Reading: John 4:4-26)
A woman rejected, her reputation scorned, changed forever by a scandalous meeting and an unexpected showering of redemptive grace.
Not only does this describe my life before Christ, these are the puzzle pieces that make up one of the most extraordinary God encounters in the New Testament.
On His way back to Galilee, Jesus led the disciples through Samaria.
Samaria, the place condemned by prophets in the book of Hosea (7:1; 8:5-7).
Samaritans, a mixed race seeped in idolatry and despised by orthodox Jews.
So, naturally, Jesus decided to swing through Samaria and chose Jacob's well as a perfect rest-stop.
Scripture says the disciples went for food.
Were they grumbling about having to associate with the people they grew up learning to hate, as the Lord sat by the well, waiting to rock the politically correct boat?
The Bible says when the Samaritan woman came to draw water from the well, Jesus asked her for a drink (v. 7).
Wait. What?
Though first-century Jewish tradition considered women less-than and Samaritans were quite a few notches below less-than (v. 9), the attitudes of others didn't affect Jesus.
He chose this particular woman for this particular encounter, knowing she also wore a badge of disdain stitched by a string of bad choices.
Her surprise at Jesus's request resounded with each syllable.
She raised an eyebrow, adjusted the bucket on her hip, and rolled her neck as she spurted each syllable with a sarcastic tone: "Are you talking to me?" (XST, Xochitl's Street Translation:)
What she actually said: "You are a Jew and I am a Samaritan woman. How can you ask me for a drink?" (v. 9)
This woman's armor held strong, though dented and dinged by past judgements and labels she'd accepted as her personal present-truth.
Did her shield of confidence hide a fear of being condemned again, for the past she couldn't change?
Was she afraid this stranger would find out what her community wouldn't let her forget?
I picture a gentle, but sad smile on the Lord's face as He shakes His head slowly. "If you knew the gift of God and who it is that asks you for a drink, you would have asked him and he would have given you living water." (v. 10)
Although Scripture doesn't record her actions, I imagine this sister narrowing her eyes as she focused on what she could see, what made sense, what she could prove.
The man had nothing to draw water from the well.
How could Jesus offer her anything she couldn't get for herself?
Talk about a great example of the insanity that we call self-help.
How many times have I insisted I could do what only God can do?
How many times have I determined this time would be different, if only I had more faith, if only I tried harder or made better choices, if only I denied my past, fixed myself, or changed my circumstances?
How often have I depended on my own abilities and strength, only to come up wanting more, wanting something different, or being stuck in the endless cycle of wanting something else as I search for satisfaction?
After Jesus whet the Samaritan woman's appetite with the promise of eternal life (v. 13), He established His power was like none she'd ever imagined (vv. 15-18).
Still, she slipped back into the comfort of her limited knowledge (v. 19-20).
What happened when Jesus opened the horizon before her and allowed her to taste the sweetness of possibility (vv. 21-24)?
Our Samaritan sister lifted her chin in shaky rebellion. "I know. I know," she said, desperately clutching to blurred expectations of God. She clung to the familiar suitcases stuffed with her past sins and the opinions of others, the judgements she'd grown accustomed to claiming as her true identity. (XST)
Hope requires risking disappointment, accepting rejection, and often surrendering our will because we dare to trust the goodness and faithfulness of the Giver.
Doubt paves a safe trail, a worn path that circles our fears and insecurities, like scavenging buzzards waiting to devour any thought that dares entertain the possibilities of that something more that would finally be enough.
What the Samaritan woman knew, or thought she knew, would feel safer than being stretched beyond the realm of her understanding.
So her actual talk-to-the-hand response, according to Scripture, was: "I know that Messiah (called Christ) is coming. When he comes, he will explain everything to us." (v. 25)
From other encounters recorded in the Bible, it's not hard for me to imagine Jesus leaning toward the woman, lowering His voice, and placing His hand over the knuckled grip that secured her empty bucket.
Each syllable flowed from His mouth refreshing her parched heart.
"I who speak to you am he." (v. 26)
Inhale. Exhale.
Could Jesus be the One she'd been waiting for, the hope, the peace, the way, the truth, and the life she'd been seeking for so long?
Jesus made time for her. He listened to her, cared about her. He extended grace and accepted her, even though He knew everything about her.
Jesus offered to give more than she deserved or even dared to dream of asking for, instead of take-take-taking from her.
The Lord loved her enough to reveal Himself to her, personally, intimately. And then, He used her to reach others, to spread His love and truth, to lead others to Him.
He wants to do the same for us.
No matter what our past holds. No matter what our present situation. Jesus invites us to drink deep of His compassion, His unconditional love, grace, peace, and forgiveness.
Jesus accepts us as we are, but through intimate love-encounters He transforms us into someone new.
When the Lord speaks to us through His Word, He illuminates His truth through His Spirit. He helps us interpret those words in the context in which He presented them, showing us how His truth applies to this life He's entrusted to us.
As we prayerfully receive the God-breathed words of Scripture, we can believe the Lord is definitely talking to us.
Lord, please help us believe what You say over what we think, or what others think about us. Help us hear You clearly, believe You completely, and heed You courageously all the days of our lives. In Jesus's name, Amen.
—-
Photo taken by and meme created by Xochitl E. Dixon. The handsome model is my amazing husband. God has been good to us!
—–