"My purpose is that they may be encouraged in heart and united in love, so that they may have the full riches of complete understanding, in order that they may know the mystery of God, namely, Christ, in whom are hidden all the treasures of wisdom and knowledge." (Colossians 2:2-3, NIV)
When I first started going to church, I prayed for one thing and one thing only. God help these people teach my kids about You so they'll be able to handle the fallout from our divorce.
I knew my decision to leave my husband would hurt our son, who already experienced a three month separation from his daddy, and my stepson, who I would have to leave behind again.
Still, I saw no hope in reconciliation and refused to consider the possibility that I played a part in our constant conflicts.
I planned my escape and desperately sought someone to equip the boys for the inevitable battle scars of a broken family.
My search for a way to help my kids have faith, in a God I didn't know personally, led me to a life-transforming adventure that began by meeting Jesus face to face in the Gospel of John.
Jesus gently tugged my heart into submission, using His unconditional love and forgiveness to encourage me to stop running from my problems, from my past, from Him, and from myself.
He surrounded me with women of God who equipped me to grow spiritually, instead of making me depend on them to anchor my faith in their ability to believe.
One lady bought me a Bible and insisted it was only through knowing God's story that I'd be able to know Him personally.
After I got over my initial concerns about her needing mental help or medication, I struggled with a strange desire to see if she was somehow . . . right.
Determined to find out, I started asking more questions, praying, and reading Scripture daily. I accepted Christ as my personal Lord and Savior, on December 14, 2001, and asked the Holy Spirit to make me more like Jesus.
Warning: Growing pains are usually not pleasant or quick in passing.
But grow we did. My husband committed his life to Christ and, in August 2003, we were both baptized with our son, Xavier.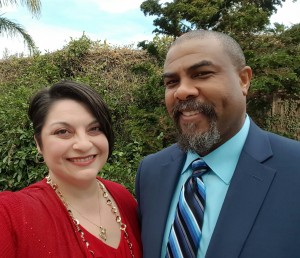 By God's abounding grace, we're still growing. We celebrated our 22nd anniversary on March 26, 2016, and have been together 25 years. That's over half my life. Wait. I have to let that sink in for a bit.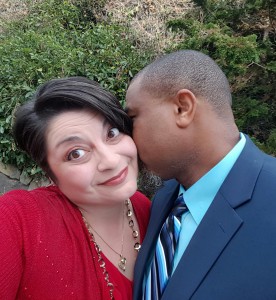 Although some days are harder than others, especially with my current health issues, I'm looking forward to what God has in store for us as individuals, as a couple, as a family, but more importantly, as His beloved children and grateful servants.
To God be the glory, the honor, and the praise!
This is a lifetime commitment, a privilege and an adventure that requires courage, not complacency.
The apostle Paul said Jesus "is the image of the invisible God" (Colossians 1:15, NIV).
To know God better, I can't think of a better place to start than by meeting Jesus face-to–face through the Gospel of John.
I hope you'll join me.
In His service,
Xochitl E. Dixon
—
If you don't know Jesus, yet, or if you want to know Him and trust Him more, I encourage you to join me next week for "Who is the Word?"
—–
A version of this article was originally posted on July 8, 2015. After a wild ride of trusting God through a difficult season in my healing journey, I'm ready to resume our journey through the Gospel of John. Together, we can ask God to meet us face to face and transform us from head to heart.
—–