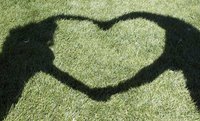 "If one part [of the body of Christ] suffers, every part suffers with it; if one part is honored, every part rejoices with it." (1 Corinthians 12:26, NIV, insertion mine)
Now, that's a love connection!
And that's how the church was intended to function.
When God, who is Love, remains our focus, our greatest desire and most passionate pursuit, people of God develop an intimate relationship with the Lord and each other.
It won't matter who's right, who's in charge, whose sin looks worse than ours.
We'll be less concerned with getting ahead and more dedicated to building others up.
We'll pray for those who persecute us, instead of gossiping behind their backs. We'll be genuinely happy when someone else takes the spot we wanted to claim for our own, trusting God to help us find our sweet spot in His perfect timing.
When we're motivated by love for God, we won't mind serving in the background. And when we serve in the limelight, we'll point straight to Jesus, the Light of the World.
God designed us to serve and grow in community. We each have a unique spot to fill, a job that we were made to do, a ministry that fits us like a custom tailored suit.
In God's Kingdom, everybody matters and everybody makes a difference. Every last one of God's precious children is sculpted with purpose.
And we all need a love connection with God and with His people, within the fellowship of a healthy Bible-teaching church.
How has being connected to a church helped you grow in spiritual maturity?
—–
Photo contributed by Susan Mangum
—–