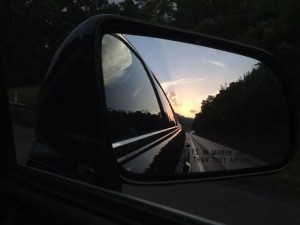 I swallowed hard when I saw this picture, posted on Facebook by my friend, Cheryl. My chest tightened. There was no way she could know this random moment caught on film represented the hardest moments in my spiritual journey.
Most people would say it's wiser to press-on, full-steam ahead, and never look back. Many people believe it's best to try to forget what's behind us, declaring the past doesn't define us so it's futile to bring it up. Why dig up old skeletons so people can judge?
Over the years, I've discovered that many of those excuses stem from fear, shame, or denial.
There's a huge difference between dwelling in the past and using the past to give God glory when we proclaim we're no longer where He brought us from.
Like my friend realized when she decided to snap this picture, there is beauty piercing through the darkness we're leaving behind.
The more we realize our value is in Christ alone and the more we trust His sovereign plan, the more we can accept that what's behind us can fuel our hope and faith for the difficult twists and turns that may surprise us on the road ahead.
When everything around me feels dark, it helps me to think back on what God has already done in my life, in the lives of others, and in the Bible.
My faith is strengthened by testimonies.
There are many moments in my past I'm not proud of. Hurtful things that happened to me that I wish I could forget. Horrible things I've done that I would like to keep hidden. Things I've said that I know can never be taken back. Things that people have said to me that I wish I could ignore or totally erase from my memory. Decisions I've made, or decisions made by other people, that damaged or even destroyed relationships.
I ran away from God and people, trying to escape my past, but never managed to get away from myself.
Even before I knew the Lord, He protected me through every single one of those experiences.
When I saw Cheryl's snapshot from the side mirror, I thanked God for rescuing me from myself. He saved me from self-help and self-destruction when He opened my eyes to see His glorious Light of love, grace, acceptance, and forgiveness.
Being honest about what God's done in the past strengthens my faith and frees me to move forward into the unknown of my future, without being limited by fear or shame.
A wise psalmist penned these words:
"I will remember the deeds of the LORD; yes, I will remember your miracles of long ago. I will meditate on all your works and consider all your mighty deeds. Your ways, O God, are holy. What God is so great as our God? You are the God who performs miracles; you display your power among the peoples." (Psalm 77:11-14)
Spiritual growth is a lifelong adventure. I've still got a long way to go. But I'm no longer afraid to face my past, or to embrace it. I share my testimony in hopes that God will use my experiences to encourage someone to place their hope in Him.
No matter how dark or scary our past may seem, a quick glimpse in the mirror will remind us how much God has already done for us. His grace fills our tanks with Spirit-empowered courage to persevere on the road ahead.
—–
Reflections:
What has God done for you in the past that can be a light of hope to help someone who is struggling or to help you trust God through your current circumstances?
What's stopping you from sharing your testimony and giving God glory for what He's done?
If you've shared your testimony, how have you and others been blessed by your courage to be transparent and honest about your past struggles?
—–
Photo by Cheryl Thompson
—–