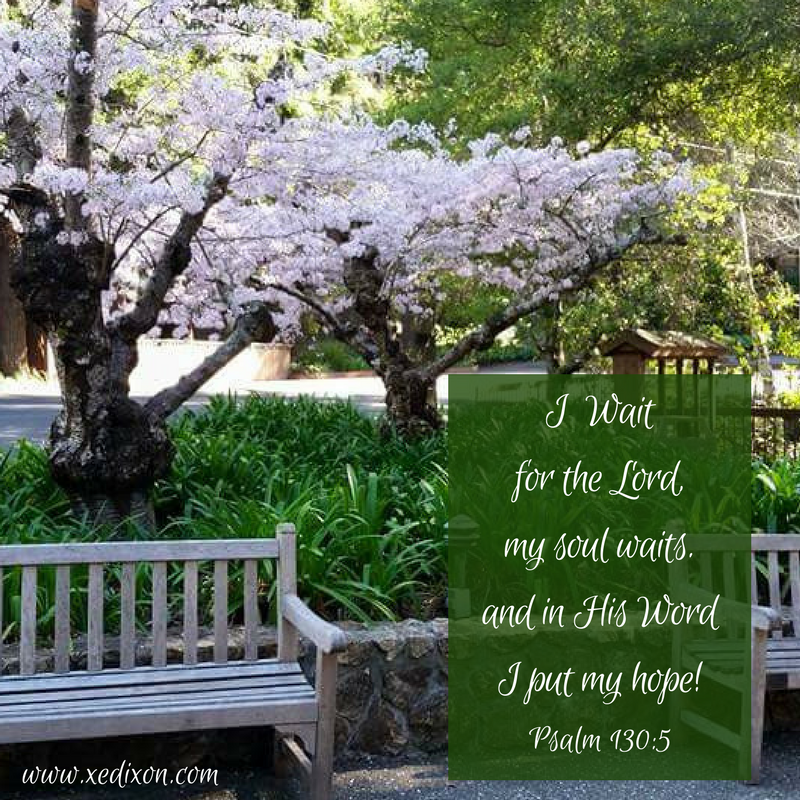 (Suggested Reading – Psalm 130)
During a recent retreat, I sat next to my hurting friend on the cool rock bench under a canopy of redwood trees in front of a small chapel. My heart ached as she listed the trials bombarding her from all sides. Her weary smile grieved me.
Placing my hand on hers, I sighed. "I know I'm not telling you anything you don't already know. God is moving in and through all that's happening. He'll work it all out."
Her eyes glistened. "But when? I'm running out of time here."
"Right on time, Sister. Even when we think it's too long or even too late, He's going to be right on time." I pulled her into a hug and sighed. "We won't be able to solve any of this today, but we can pray."
And pray we did.
As I interceded for my friend, I thought about my own struggles in the wait. We'd been praying for one another for years−waiting, waiting, and waiting.
The words that poured over my lips became pleas for mercy.
How long, Lord? How long would my friend have to suffer? How long would my pain continue? How long would we have to wait for a breakthrough?
I ended the prayer proclaiming God's unchanging character traits. After a breathy 'amen,' we left the cool rock bench. We went our separate ways with a promise to continue praying, knowing we couldn't control how long we'd have to wait.
I prayed as I strolled toward the nearby coffee house, my back injury flaring up again. I stopped to rest on a wooden bench, enjoying the beautiful surroundings.
God planned, created, and sustained every giant redwood, every fragrant blossom, every scurrying squirrel, and every person on that campus.
Surely He could handle every detail of our lives. Surely I could trust His loving timetable.
Focused on the glorious details of God's wondrous creation, my heart-cry changed.
Use this to bring us closer to You, Lord. Use this to make us more like You. Remind us You are and always will be faithful, good, loving, and in control.
Contemplating our physical and emotional pain and interceding for hurting friends can overwhelm us if we stay focused on our smallness, our helplessness, and our weariness.
But we can experience great peace when we follow the simple prayer of the writer of Psalm 130.
We can call on God in the midst of our struggles, feeling devastated and defeated. He knows when we're struggling and invites our honesty.
"Out of the depths I cry to You, O LORD; O LORD, hear my voice. Let Your ears be attentive to my cry for mercy." (Psalm 130:1-2)
The psalmist's surety affirms his belief that the Lord would answer because the Lord cares.
He acknowledged God's holiness and grace (v. 3-4). His patience and hope came through his confidence in God's unchanging character and His inability to lie (v. 5).
Waiting on God became a spiritual act of worship and trust, as sure as the sun rising each morning (v. 6).
Though there's no indication that the psalmist received any relief or rescue from the depths from which he cried, he proclaimed the Lord's unfailing love and trustworthiness (v. 7). He gazed past the present moment and clung to the priceless prize of redemption from sins (v. 8).
We'll always be waiting for something in this ever-changing life.
But when we place our hope in God, the Creator and Sustainer of the Universe, we can walk with confidence and embrace delays and detours with courageous faith.
Lord, thank You for Your unfailing love. Please help us trust You to show up right on time, every time. In Jesus's name, Amen
—–
Photo taken by and meme created by Xochitl E. Dixon.
—–