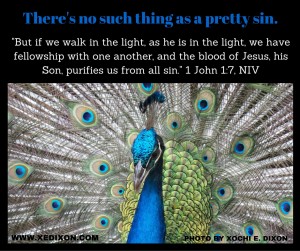 When my husband flung a few harsh words my way, I slapped my shiny righteous anger badge on my chest, yelled my retort, and commenced operation silent treatment.
But, having read through the Bible yearly since 2005, I knew the verses I dreaded would eventually be smacking me in the face.
There they were in Tuesday's reading. Smack! Slap! Pow! Bam! In your face!
"But I tell you that anyone who is angry with his brother will be subject to judgment." (Matthew 5:21, NIV)
Whew! I'm safe, Lord. I'm mad at my husband, not my brother.
If God was anything like me, He'd have rolled His eyes at that pitiful attempt at trying to convince myself my sin was prettier than my husband's.
In His goodness, though, He extended grace without missing a beat.
"Therefore, if you are offering your gift at the altar and there remember that your brother has something against you, leave your gift there in front of the altar. First go and be reconciled to your brother; then come offer your gift." (Matthew 5:23-24)
That was close, Lord. I'm not offering a gift at the altar. I don't go to church until Sunday. That gives me a few more days to stew while I wait for an apology.
There was a problem with that faulty reasoning.
My being right doesn't make my wrongdoing right.
My sin separated me from intimacy with God. That was a price I didn't want to pay, no matter who was right or wrong. And if I was honest, I had to admit we were both wrong.
As I loosened my grip on the lame excuses, God drew me nearer to His heart and deeper into Scripture.
The Greek word for anger in Matthew 5:21, orgizō, is a verb that means "to be enraged, to feel and express strong displeasure and hostility."
That word didn't describe my feeling toward my spouse. Technically, I was hurt not angry, wounded not enraged or hostile. My response, then, should have matched my emotion. But, it didn't.
The yell-reflex and silent treatment slid me deeper into sin and away from my desire for holy living (Colossians 3:7-10).
My sin didn't cause my spouse to change or feel remorse for his own sin.
So, I did what I know works. Obedience.
I asked God to forgive me and to help me forgive my husband. I called my husband, apologized for my part, communicated my feelings calmly, and set healthy and holy boundaries. Then, I committed to trust God to work out the details as He helps us continue to work toward reconciliation in this delicate matter.
Each and every one of us will hurt others and be hurt by others while navigating through life together.
God doesn't say we shouldn't feel anger. He does, however, offer five verses to help us learn to deal with anger in godly ways.
"In your anger do not sin; when you are on your beds, search your hearts and be silent." (Psalm 4:4)
Respond, don't react. Spending time alone listening to God's voice will help us respond in calmness. When we immediately jump into defense mode, we're more likely to distort another person's meaning and intent, or fail to see our own contribution to escalating the problem. The chance of blowing small things out of proportion, or saying something we regret, becomes greater.
"A gentle answer turns away wrath, but a harsh word stirs up anger." (Proverbs 15:1)
Striking back, harder, has always been my first response to being hurt. Over the years, God has helped me tame my anger and my tongue by teaching me how to S.P.I.T. (Stop. Pray. Inhale. Trust Jesus!). I don't always S.P.I.T. first, but I'm getting better at taking a few deep breaths and looking for a spittoon before heaving verbal daggers that make things worse.
"A fool gives vent to his anger, but a wise man keeps himself under control." (Proverbs 29:11)
When we're venting our anger, words can easily become vicious counter attacks. The you-hurt-me-and-I'll-hurt-you-worse mentality will destroy relationships and hinder our intimacy with God. Taking time to process feelings will help us understand why we're hurt or angry, before we fling sharp-tongued spears that can't be taken back.
"In your anger do not sin: Do not let the sun go down while you are still angry, and do not give the devil a foothold." (Ephesians 5:26-27)
Forgiveness is a choice, empowered by the Holy Spirit, to release the offender into God's hands. When we're hurt or angry, it's important to accept our feelings as valid. We can ask God to reveal our part of the conflict (if we have a part), and help us process our feelings. Reconciliation isn't always possible, since we can't control others, but peace resides in a heart that embraces emotions instead of becoming entangled in them.
"My dear brothers, take note of this: Everyone should be quick to listen, slow to speak and slow to become angry, for man's anger does not bring about the righteous life that God desires." (James 1:19-20)
Seething with frustration, bitterness, and resentment can make our tempers flare and our grace fade. We can become short-fused, critical, or prone to complaining. These red flags tell us we need to open ourselves up to accountability. We may even need to seek a professional to help us discover the root of our anger and give us tools to manage our out-of-control emotions.
When learning to deal with anger in godly ways, it's vital to remember that none of these helps will amount to much without God's intervention.
We need consistent time in prayer and Bible reading so that the Holy Spirit can saturate our minds and our hearts with His truth. We also need safe people to offer us accountability and encouragement. We have to be willing to listen to honest feedback and submit to God's Holy Word, if we want to reflect His character and enjoy intimate relationships with Him and others.
Lord, thank You for reminding us that we're controlled by the Holy Spirit, not by our emotions. Please reveal the deep roots of our anger and any other sinful attitude or behavior that causes us to inflict pain in the lives of others, or feeds our own hearts with growing bitterness, resentment, or anger. May peace rule in our lives and flow into all our relationships. In Jesus' name, Amen.
—–
Are you more likely to respond or react when someone hurts you or makes you angry?
How has God helped you to improve in the way you respond when you're hurt or angry?
—–