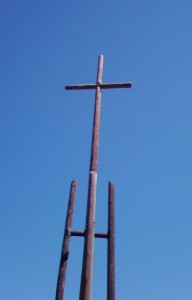 "So neither the one who plants nor the one who waters is anything, but only God, who makes things grow." 1 Corinthians 3:7, NIV
As a new Christian, I struggled when receiving a compliment or thanks for serving, especially when that acknowledgement was in regards to something creative like speaking, writing or singing.
"It was God, not me!"
As a maturing Christian, however, I've come to realize that by deflecting the compliments and thanks, I was minimizing what God was doing.
He equips us. He designs our purpose. He directs our steps. And He chooses to use us not out of necessity, but out of love.
The apostle Paul understood he was powerless without God. He also understood he was called with a purpose and had to put forth effort in his obedience to God.
He wrote: "By the grace God has given me, I laid a foundation as a wise builder, and someone else is building on it. But one should build with care. For no one can lay any foundation other than the one already laid, which is Jesus Christ." (1 Corinthians 3:10-11)
By God's grace, we are each given tasks to accomplish in life. Yet, we are not saved by those tasks or rejected if we do not complete them. The Lord equips us and will make a way, if we are willing to follow Him. He knows we need His strength to walk in courage. He is glorified when we accomplish what He sets before us.
We can receive compliments and thanks graciously when we remember God is the Giver of all good things and acknowledge His work by praising Him.
"Thank you. Praise the Lord!"
It's as simple as that.
God knows the motives of our hearts. He understands why we do things. He delights when we serve out of worship and love for Him, not for recognition or esteem.
If we are worried about pride seeping into service, we can check our hearts by asking God to keep our motives pure as He uses us for His glory.
Ephesians 4:16 reminds us that God is the center of everything and our works are an overflow of His grace in our lives.
"From him the whole body, joined and held together by every supporting ligament, grows and builds itself up in love, as each part does its work."
We are all valuable parts of the body of Christ. Everybody matters. Everybody makes a difference. But, ultimately, God gets all the glory. Hallelujah!
So, when He calls us to use the gifts He's given us, we can be brave. He doesn't want us to hide our gifts because we feel inadequate or are afraid of being prideful. Scripture reminds us that we can do nothing apart from Him" (John 15:5).
If we struggle with receiving compliments, we can practice saying, "Thank you. Praise the Lord!" Receiving God's affirmation through His people helps us to have courage to continue stepping out of our comfort zones as we invest in His Kingdom.
When has God used your obedience to remind you that you are chosen by grace to serve His people?
How does it feel to know that God can use you, even when you feel inadequate, to bring glory to His name?
—–