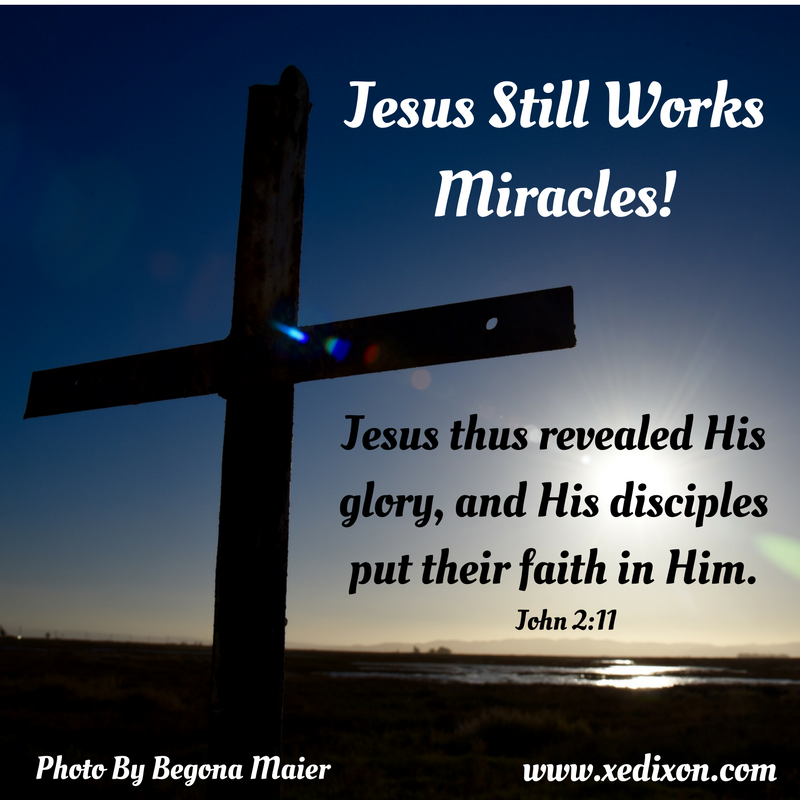 (Suggested Reading: John 2:1-11)
After another week of suffering with chronic pain, the Christmas lights on our tree didn't seem to twinkle as bright as I thought they should. I recounted the year I'd spent battling health issues, dealing with broken relationships, praying for hurting loved ones, and wondering how God would meet our financial needs when the numbers didn't seem to add up.
I focused on the unpredictable waves of my circumstances and sank deeper into discontent, discouragement, and despair. My weary heart begged for deliverance, a breakthrough, or at least a break.
During a fuss-my-way-to-submission prayer, I asked God to forgive me for succumbing to pessimism. I needed a miracle to shift my attitude, so I went to the source of my hope−Jesus.
As I read the historical account of the Lord's first miracle−turning water into wine at the wedding in Cana−its familiarity tempted me to skim through the God-breathed verses. I almost missed the five faith-building truths revealed in the details.
Surrender paves the way for God to move in miraculous ways. (John 2:1)
Mary's response resounded with assurance when Jesus denied her request. She could have demanded her way or fussed about His answer. Instead, she accepted His words and trusted Him to do what He thought best. Confidence blanketed her tone as she encouraged the servants to simply obey Jesus.
God uses the ordinary to perform extraordinary and intimate miracles. (v. 6)
Jesus chose to use the six common water jars that were already being used at the banquet. He transformed plain water into high quality wine. He invited the servants to witness His power in the middle of their average work day. Through this miracle in the midst of the mundane, the Lord blessed the unspectacular servants who were willing to trust and believe.
Obedience prepares us to recognize God's wondrous works. (v. 7-8)
When the servants followed Jesus's instructions, they claimed front row seats to witness His power in action. Their quick submission displayed a willingness to believe in Jesus. They obeyed and waited expectantly. They didn't try to figure out what Jesus would do, or tell Him what they thought He should do. They simply followed His instructions and remained at the ready. And they weren't disappointed.
Miracles reveal Jesus's personal touches that often go unnoticed. (v. 9-10)
The master of the banquet failed to recognize the miracle that happened right before his eyes. I don't judge him, because I know how easy it is to minimize the wondrous works God accomplishes through prayer closets. I know how easy it is to ignore the extraordinary moments God shows up in the ordinary days that make up the transformed life of a Christ follower. Those intimate exchanges when the Lord intervenes in our lives don't often make the front page news, but each one is a miracle of His power, His love, His mercy, and His grace.
Miracles are evidence of our living God's active role in our lives. (v. 11)
The disciples placed their faith in Jesus when He demonstrated His glory, His majesty, His splendor, His divine might in action. They didn't demean the Lord by placing expectations on Him. Instead, they encountered His majesty face-to-face and responded by making life-transforming decisions to trust Him by following Him in bold faith.
Though the Messiah's first miracle wasn't a life-shattering or life-altering event, we tend to expect modern day miracles to be extravagant displays of His power.
A miracle is simply defined as an effect or event "considered as a work of God."
Through our trials and through the moments when things are going so well that we're tempted to be bored or ungrateful for God's peace and provision, we can be sure the Lord intentionally orchestrates events according to His perfect plan. He knows how we'll respond in our given circumstances and is ready to use those responses for His eternal glory.
Even when we refuse to acknowledge Him, the Creator of the world, Almighty King and Savior, Redeemer and Provider, our Deliverer and Good Shepherd invites us to accept His love and forgiveness.
The miracle of Jesus didn't start or end in a manger. From the beginning of time, Jesus was and is and always will be Emmanuel−God with us.
No matter what our current circumstances may be, our Lord Jesus Christ remains constantly present and consistently involved in our lives−that is and always will be a miracle worth celebrating on Christmas and every day.
Lord, thank You for the opportunity to celebrate You this Christmas. Please help us recognize Your fingerprints evidencing Your work in our lives. Give us confidence in Your abilities, as You empower us to trust Your motives. Please help us live with courageous obedience to Your Word, as we wait expectantly to see Your miraculous works in and through the ordinary days of our lives. In Jesus's name, Amen.
—–
How have you seen God miraculously working in and through your life over the last year?
—–
Photo taken by and used with permission from Begona Maier.
Meme created by X. E. Dixon
—–