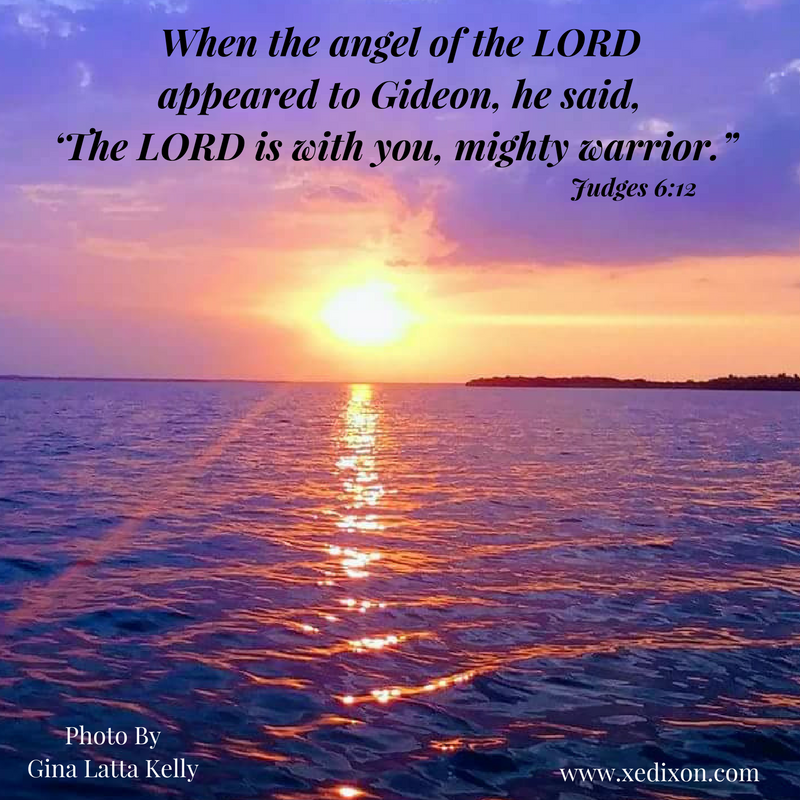 Suggested Reading: Judges 6:1-16
In January 2014, I asked God to help me be braver. I longed to follow Him, even when He asked me to try new things, hard things, and, yes, even scary things.
That commitment led me down unexpected, exciting, and excruciating detours and delays on the path God paved and used to challenge me, sculpt me, and deepen my faith.
I had decided to pray for guidance daily and say "yes" whenever the Lord led me to serve. It wasn't always easy discerning when it was God leading or other people insisting He'd put me on their heart so the task must be my responsibility.
As I continued seeking Him, drawing near to Him, and asking Him to show me "the next step" He wanted me to take, He increased my discernment and blessed me with the strength and courage I needed so that I could obey Him.
I had no idea saying "yes" to God would require me to say "no" to some good things, that following His lead might land me in some incredibly physically and emotionally difficult seasons or seemingly endless waiting periods.
Obedience to God often thrust me into painful in-your-face-moments that revealed how much I needed His life-transforming love to penetrate every aspect of my life.
But over the last few years, I've discovered one thing I needed to do before I could serve the Lord as He intended.
I needed to believe God.
I needed to believe what He said about who He was, is, and always will be and who I am because of Him.
I needed to believe Him, especially when it felt easier to doubt.
As God helped me know Him, He helped me believe Him, which helped me to trust Him as He slowly, patiently, lovingly stripped away the doubts, fears, and insecurities that kept me from following Him with courage.
Focusing on my limitations, my lack of qualifications, my shortcomings, my uncertainties, and my past failings kept me from living for God.
How could I serve Him and fulfill the purpose of sharing Him with the gifts He'd given me, when my greatest naysayer and biggest adversary discouraged me and mocked me every time I looked in the mirror?
It seems obvious that Gideon fought his inner-critic, too. He seemed to have a hard time believing the LORD would consider him a "mighty warrior" (Judges 6:11).
But the angel of the LORD got close and personal with Gideon. He came alongside this ordinary steward who was doing ordinary tasks, using the gifts and fulfilling the purposes he'd already been given.
The divine messenger assured Gideon of God's promise to be with His people. He labeled Gideon with a badge of strength, a role of persevering courage, pointing out the potential God had placed within him (v. 11).
Still, Gideon's thoughts flipped back to the times when he didn't get his way, when God didn't meet his expectations, when his circumstances felt too hard, when life seemed uncomfortable, unfulfilling, and unjust (v. 13).
I don't blame him. It often feels easier to keep our attention on the difficulty of the task at hand, the unfairness of our journey, the disappointments of our shattered expectations, and the ways we feel God let us down.
When we cast blame on God or others for the tough times in life, we can almost feel justified when we avoid trying, when we reason our way out of obeying, when we convince ourselves we can't risk trusting the Lord again.
If Gideon's "But Sir-speech" could prove God untrustworthy, maybe he could still end up looking like a good guy, a reasonable, wise, and safe guy. Or maybe he could just avoid being hurt, scared, disappointed, weary . . . or maybe he could avoid losing.
Who hasn't wanted God to promise a risk-free road of obedience?
Fortunately, Gideon's story assures us that the Lord understands our weaknesses.
The LORD turned to Gideon. Talk about an intimate vote of confidence.
"Go in the strength you have . . ." (v. 14)
Gideon didn't need anything extra to accomplish what the LORD asked him to do, and neither do we.
"Am I not sending you?" (v. 14)
The LORD simply reminded Gideon that he was not alone or without purpose.
When God sends us down the pre-ordained path He planned for us, He remains with us, providing all we need to do all He entrusts to us as we follow Him, rely on Him, and surrender to Him every step of the way.
Yet, like Gideon, we can be tempted to turn our gaze to our limited resources and lack of status, listing the many reasons we aren't qualified for the job (v. 15).
Of course, we're not qualified! God doesn't need us. He wants to use us to spread His truth and love to the ends of the earth, to serve Him by serving others, and to bring glory to His name by simply doing what He asks with what he provides.
We can go wherever God leads, in the strength we have with the gifts we have, because God is the one sending us.
When Gideon obsessed over his lacking, the LORD didn't flatter him with words of affirmation to help him feel better about himself.
He simply confirmed He would be with Gideon and fight on Gideon's behalf (v. 16).
God will help us surrender to Him, depend on Him, and trust Him to carry us over and through every obstacle He intends for us to face.
He doesn't ask us to save the world, change the world, or carry the world on our shoulders.
He simply asks us to listen to Him, to look to Him, and to live for Him as we believe Him, even when it's easier to doubt.
Lord, thanks for assuring us You're with us. Please help us to be brave, as we seek You, obey You, and share You with every gift and every opportunity You've given us. In Jesus's name, Amen.
Is God asking you to try something new, something hard, or something a little bit scary?
How can focusing on His faithfulness, His power, His grace, His goodness, and His constant presence make us brave, even when it's easier to doubt?
I hope you'll join me for my new blog series "Living Brave." I look forward to drawing closer to God, trusting He'll empower us to try those new things, hard things, and, yes, even those scary things as we serve Him and share Him with courageous faith.
—–
Photo taken by and used with permission from Gina Latta Kelly.
Meme created by Xochitl E. Dixon.
—–