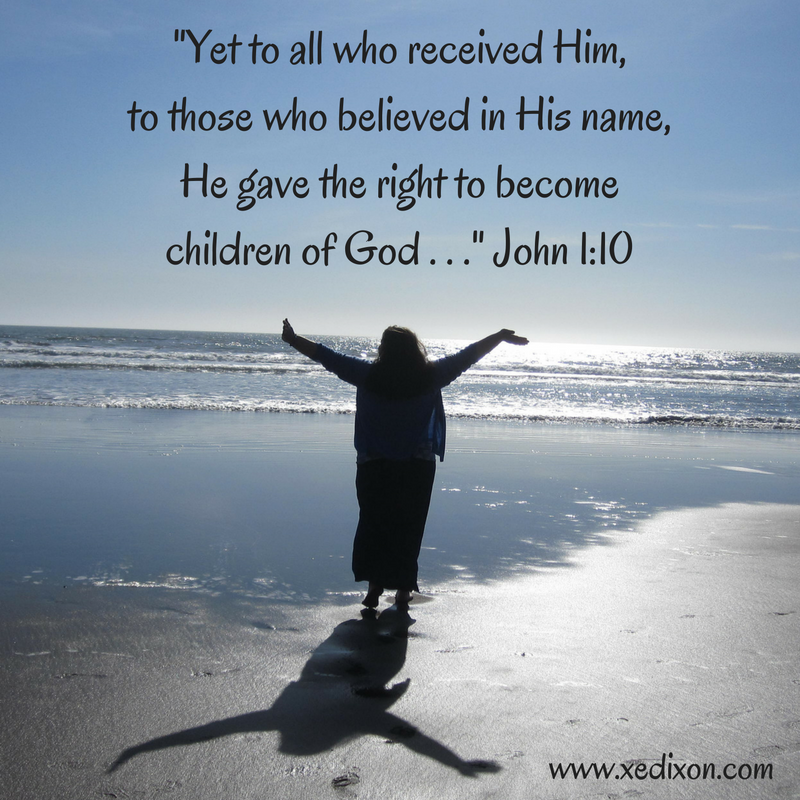 "He was in the world, and though the world was made through him, the world did not recognize him. He came to that which was his own, but his own did not receive him. Yet to all who received him, to those who believed in his name, he gave the right to become children of God— children born not of natural descent, nor of human decision or a husband's will, but born of God." (John 1:10-13, NIV)
Over the years, I've been learning there's a huge difference between believing in God and living like I believe God.
This truth has reached a too-close-for-comfort personal level during my healing journey. There have been days when dealing with the physical or emotional pain and battling frustration, discouragement, fears, and doubt felt unbearable. There have been days when my attitude and my response to life's circumstances have been less than desirable, and far from godly.
I'm choosing to surrender to Jesus because I've been given a glimpse of His glory, His goodness and His grace. I'm choosing to submit to Him because I know I can't save myself, change myself, or carry myself through times of suffering or affliction.
But I can't depend on Christ, I can't know Him or love Him or obey Him, if I haven't received Him as my personal Lord and Savior first.
The Bible tells us simply believing that Jesus is God isn't enough. During Jesus's earthly ministry, the demons recognized Jesus and knew the magnitude of His power. Though they did not honor Him as their personal Lord, they couldn't deny or escape His might or authority.
Believing in God the Father is an important step. Believing in God the Son is a vital step that can't be skipped. But God requires and offers so much more when He invites believers into a personal relationship through the Person of Christ, not the concept of a Savior, by the power of the Spirit.
When we simply stop at believing, we can unintentionally settle for lives stunted by the habit of walking by half-faith.
This is not a new obstacle faced by God's people.
The Old Testament Jews believed in the promise of the Messiah and fully expected God's prophecies to be fulfilled. The religious leaders boasted about their pious lives. Strict in tradition and ceremony, they diligently memorized and espoused the Law. One would think their knowledge of God would have increased their ability to recognize and submit to the promised Messiah.
God enabled some of the Pharisees to acknowledge how Jesus fulfilled the Old Testament prophecies. But believing Jesus was the Messiah wasn't enough then and it's not enough now.
Many self-proclaimed Christians, who truly believe in God and acknowledge Jesus is God in the flesh and Savior of the world, haven't received Jesus as their personal Lord and Savior and aren't living as people who've been given the power of the Holy Spirit.
If we miss the crucial step from believing to receiving, we can become modern day Pharisees.
It's dangerously possible to believe in God and not know Him, to serve in ministries faithfully while remaining self-reliant, self-centered, and self-serving.
When Jesus is our personal Lord, He is the only One allowed to rule, which means we ask Him to empower us to obey Him not our fleshly desires.
When Jesus is our personal Savior, we acknowledge He is the only One capable of saving us, which means we depend on God's power, not will power or self-help.
Total dependence on and surrender to God does not mean we won't struggle or suffer on this side of eternity.
The Lord knows our flesh is prone to wandering onto the path of pride, disobedience, and self-indulgence. He knows we'll be tempted to insist on relief from pain or hardship. He knows we're vulnerable to physical and mental sicknesses. He knows we're susceptible to returning to the shackles of sin.
Our many weaknesses only confirm our desperate need for our perfect Savior.
When we believe in Jesus, we're given the gift of the Holy Spirit. But we have to personally receive the Holy Spirit in order for us to be empowered by Him.
We access God's power by asking to receive His power and believing we'll receive His power to obey His Word.
My healing journey has helped me grasp this concept on a more personal level.
I can believe the medicine my doctor gives me works. But if I refuse to take that medicine into my body and follow the instructions the physician orders, the medicine can't do what it was designed to do.
I can believe God exists and even believe His plan is perfect and His power is limitless. But I don't have the ability to live like I believe His words, His love, His grace, and His promises are meant for me personally if I don't receive His Spirit. I must submit and surrender to the Holy Spirit if I'm going to allow Him to help me follow His instructions.
Here's the catch. I can't submit or surrender to Him in my own strength. So, I ask Him to help me do this on a daily basis, sometimes on an hourly basis.
Believing begins with the knowledge of the facts transformed to faith through the power of the Holy Spirit.
Receiving is a commitment to an ongoing love dance with the Holy Spirit, letting Him lead as He enables us to live for God no matter how costly the personal stakes.
God remains true to His faithfulness, even when our humanity proves us faulty.
All we have to do is ask and He'll help us believe and receive Him. But we can't skip the step of receiving God's power through the Holy Spirit, if we want to live in accordance to His will and trust Him to keep His Word, because He enables us to understand and believe that His Word is infallible.
Father God, thank You for making Yourself known through Jesus and the power of Your Holy Spirit. Please reveal when we're stuck at believing in Your power instead of receiving Your power. Please help us stop trying to control our circumstances and our spiritual growth, instead of asking You to help us believe You, submit to You, and live for You as You change us and make us more like You. In Jesus's name, Amen
—–
Reflection: In what ways have you been blessed when you allowed the Holy Spirit to transform you, empower you, and deepen your faith in God during difficult times?
—–
Thanks for joining me for this week's installment of "Meeting Jesus Face-to-Face in the Gospel of John." If you don't know Jesus, yet, or if you want to know Him and trust Him more, I encourage you to join me next week for "The Law in Jesus' Hands," asking God to meet us where we are and transform us from head to heart.
—–
Photo taken by and meme created by Xochitl E. Dixon.
—–