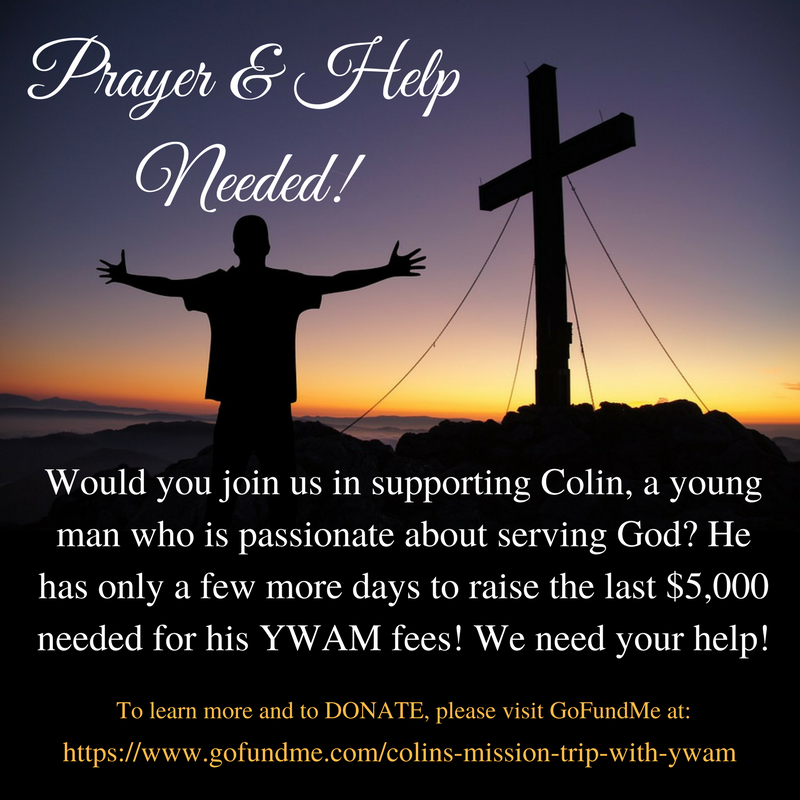 As I remain housebound, I've asked the Lord to help me be bolder, to help me be fearless in sharing Him and serving Him, to never limit Him because of my limitations.
I've asked the Lord to show me ways I could serve Him more, ways I could be His hands and feet as I make a difference in the lives of others . . . even from my recliner.
He's been blessing me with so many opportunities to pray for others, to offer encouragement through writing, and now . . . in a way I've never done before.
But today, I received a cry for help from a young man who simply wants to serve the Lord and believes he will see God moving in mighty ways . . . even if he doesn't get what he's asking for.
I cried as I read his email.
Then, I wrote this message to share it with you:
URGENT PRAYER AND HELP NEEDED!
Our friend and fellow Christian writer reached out for help awhile ago. We've been praying for his son, Colin, who is in the middle of three months of intensive, one-on-one training with YWAM (Youth with a Mission) and should be heading to Queensland, Sweden, Norway, and the world cup for three months of ministry. The return date is July 2018.
However, Colin sent us an email that said he may be sent home!
He's worked hard to save for this mission trip for over a year.
He only needs about $5000 dollars, though this amount does not include his round-trip plane tickets to Australia.
He is also in need of money for incidentals like laundry, to cover the six-month mission trip.
His last update assured us he is not eating much, since he's fasting for the first time . . . while praying and trying to raise the funds he needs.
He also assured us that he's letting his cloths air dry so he only has to spend money on the washing machine.
Oh, how I wish I could give this good steward every penny he needs. But, since I can't do this alone, I'm asking all of my amazing friends and family to help me . . . to help Colin . . . for the glory of God!
If this young man doesn't have the money turned in by February 26, 2018, Colin will be delayed in joining his team. If he doesn't have the full amount by March 1, 2018, he will be asked to go home.
He is at peace with this situation and is trusting God's will, even though he has no funds to get home either.
Oh, what beautiful faith I see in this young man of God! I, too, have no doubt the Lord can provide above and beyond Colin's dreams as he devotes his life to serving Christ.
Please join me in praying for Colin and the other YWAM team members.
And please prayerfully consider donating to Colin's GoFundMe account today! Any little bit helps.
Please also share this post with others who may want to be a part of what God is doing in and through Colin's life, as we continue praying for our little brother in Christ.
To God be the glory!
To DONATE, please visit Colin's GoFundMe YWAM Mission Trip account.
I'm not receiving anything by sharing this information.
I've served in ministry with Colin's dad since April 2016. Their beautiful family has prayed for us, as we've prayed for them.
I used to dream of taking mission trips when I first surrendered my life to Christ.
When my chronic pain increased, I had to accept that the Lord may have other ways for me to reach the world for Him.
He's done this through my writing. Praise the Lord!
He's also given me opportunities to pray for young people who have the desire to serve Him in ways I cannot.
And now, the Lord has placed it on my heart to share this fundraising effort with you, something I have never done before.
I was afraid to ask for help. I was afraid . . . but not anymore. Over the last few years, I've been asking the Lord to help me be bold for Him. Still, I let fear stop me from doing something as simple as asking for help for someone in need.
So, I'm asking.
Please join me in prayer.
I do not want anyone to feel obligated to donate financially.
However, if God places it on your heart to give a little of what He's given you, please join me in investing in the life of a young man who wants to share the Gospel of Christ to the ends of the earth! 
Hallelujah!
Was this hard? Yes. But I'm not going to hide behind fear anymore. If this young man can be bold for Jesus across the miles . . . I can be bold for Jesus from my recliner.
Thank You, Lord, for the opportunities You give us to join Your work around the world. Thanks for using us, even though You don't need us. Thanks for inviting us to share Your truth and love wherever You lead us, to encourage one another in word and with our actions. Thanks for blessing us with a glimpse of young Colin's bold faith, Lord. May Your will be done in and through this young man's life. You are so good to us, Lord! Please help us trust You, as You move in ways we never dared to dream possible. In Jesus's name, Amen
.—-