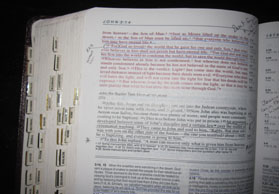 I attended a dinner show at Medieval Times in southern California. The food was served in generous proportion. I couldn't even finish the first course before the waitresses brought out an overflowing platter for the second course of the meal.
I cheered as the Knights jousted in the center arena. Clouds of dust rose with the pounding hooves of each mighty steed. I gasped as swordsmen performed an intricately choreographed dance of clashing metal. My eyes widened as the knights continued their fight for the damsel in distress.
One slip, one moment of hesitation, and the performers could end the evening with some serious injuries.
I thought of how much practice was necessary in order for the knights to wield their swords with such confidence.
As I was reflecting on my New Testament reading, my mind returned to the swordsmen at the Medieval Times show.
In Matthew 4, Jesus is led by the Spirit into the wilderness to be tempted by the devil. The devil twisted Scripture, challenging Jesus by spouting verses out of context. Yet, Jesus came back at him with confidence because He knew how to wield that sword of Truth.
To be ready for the enemy's relentless attempts to paralyze and discourage me, I need God's Word in generous proportions, like the platters placed before us during our dinner show.
Like the valiant knights of the Medieval Times, we can be more confident when we're armored for battle and familiar with our trusty Sword.
Lord, please help us to approach each day, excited to learn more about You. Fill us with Your truth so we can stand strong against the enemy's flaming arrows of lies. In Jesus' name, Amen
—–