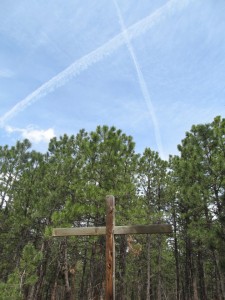 "Since the children have flesh and blood, he too shared in their humanity so that by his death he might break the power of him who holds the power of death?that is, the devil?and free those who all their lives were held in slavery by their fear of death. For surely it is not angels he helps, but Abraham's descendants. For this reason he had to be made like them, fully human in every way, in order that he might become a merciful and faithful high priest in service to God, and that he might make atonement for the sins for the people. Because he himself suffered when he was tempted, he is able to help those who are being tempted." (Hebrews 2:14-18, NIV)
When we think about our amazing Savior, singing praises during service or pouring our hearts out to Him in prayer, it's easy to forget how much He truly relates to suffering and how much He can understand our humanity.
We don't have to fear transparency before the Lord. There's nothing that will rattle Him, shock Him, or make Him stop loving us. He delights and welcomes us with a clean slate when we repent of our sin and seek His forgiveness and healing.
"For in Christ all the fullness of the Deity lives in bodily form" (Colossians 2:9, NIV). Yes, Jesus shared in our humanity, while remaining fully divine.
He overcame temptation (Matthew 4:1-11; Mark 1:12-13; Luke 4:1-13). He was no stranger to sorrow (Mark 14:34). He experienced weariness, heartache, desperation and pain. He knew the sting of betrayal, abandonment and rejection.
Jesus showed us how to retreat into the presence of the Father to be refreshed in the midst of trial. He prayed for relief then submitted to the will of the Father.
Yes, Jesus was fully man. But, we can't forget He was fully God, too.
Our Savior defeated death through His sacrifice on the cross. He rose three days later, so that we could experience the fullness of His love and grace. Through Him we can grasp the hope of eternal life.
Because He was fully human, He understands. Because He loves us, He cares.
Because He is fully God, He is able to meet our every need.
"Let us then approach the throne of grace with confidence, so that we may receive mercy and find grace to help us in our time of need." (Hebrews 4:16, NIV)
Come, precious woman of God, fall into the arms of our loving Savior. Experience freedom, peace and hope in the light of His amazing grace. Bask in His love, demonstrated through the power of the wonderful cross.
How does knowing Jesus understands your humanity help you approach His throne of grace with confidence so that He can meet your every need?
—–
Photo provided by Robbie Iobst
—–