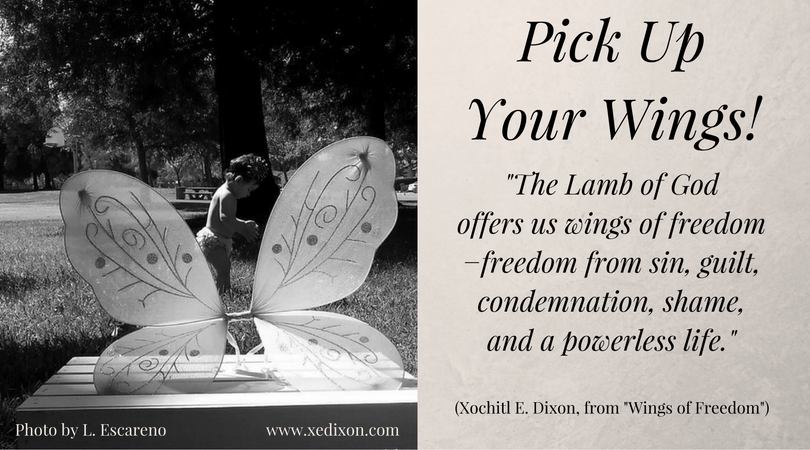 (Suggested Reading: John 1:29-34)
When I first heard, I mean really heard, the Gospel, I responded with tears.
Accustomed to feeling unworthy and unlovable, I struggled to believe that Jesus, God in the flesh, died for me.
Why would He give His life as an atonement for my sin, as payment for the sins I once wore like badges of honor?
Why would God want to forgive me for sins I tried to deny or hide, sins I intentionally committed in an effort to escape personal pain?
I had a hard time understanding or believing that God would willingly and completely release me from the chains of guilt if I genuinely expressed remorse over my sin and asked for His forgiveness.
I played tug-of-war with the concept of atonement and feared the reality of substitution.
Why would Jesus choose to die on the cross, willingly serving as my substitute to pay for the sins I was responsible for?
Why would the only One who knew no sin, the One who never committed a sin, take the punishment for my sin and endure the agony of separation from the Father?
Why?
Because of His limitless love for me.
This simple answer boggled my mind.
Could it be that Christ's great act of sacrificial love was planned from the beginning, declared in the Old Testament, revealed through the New Testament, and experienced every day on this side of eternity within the lives of Christ followers past and present and future?
Yes. Yes. Yes. And Yes.
"God made him who had no sin to be sin for us, so that in him we might become the righteousness of God." (2 Corinthians 5:21, NIV)
The Lord cradled this verse with two astounding declarations of our privilege and responsibility as Jesus' disciples:
(1) We are empowered to be ambassadors, imitators, representatives of Christ. (2 Corinthians 5:20)
(2) God's grace came at a high cost that should be reflected in the way we live for Him (2 Corinthians 6:1)
Still, I battled doubt as the Holy Spirit continued to massage out the kinks of my imperfections.
I minimized the personal and sacrificial cost Jesus paid when He surrendered His life to save mine, by keeping a tally of accomplishments, failures, and sins as if they determined the measure of my worth.
Christ's death on the cross and His resurrection made complete forgiveness and freedom from sin possible.
Despite the ongoing war with our sin nature, God places wings of freedom within our reach.
Will we accept His offering, knowing we could never deserve or earn such a gift?
This abundant life of freedom begins the moment we profess Christ as our personal Lord, our Ruler, our Authority.
But will we have the courage to shrug off the comfort of complacency and the lies that keep us knee-deep in trying to prove ourselves or make ourselves feel good enough?
Through prayerful study of Scripture comes the knowledge of God.
Through personal acceptance of Jesus as Lord comes the freedom of God.
And through the indwelling of the Holy Spirit comes a life with full access to the power of God.
Every follower of Christ has this power, though many of us haven't learned to access the power of His sweet Holy Spirit.
Though we've been pardoned, some of us continue to spar with guilt and shame when we think about our past sins or struggle with our present capacity to sin.
Though we've been cleansed, some of us wear cloaks of condemnation placed on our backs by ourselves and others, instead of accepting what Christ has done as completely final and intimately personal.
When Jesus declared His work on the cross as finished (teleō), He meant completed, fulfilled, accomplished, d-o-n-e, done.
The gifts of God's grace and forgiveness are not passes to continue in our sin (1 John 2:1-6), yet it often feels easier to cling to excuses and wave the banner of weakness and timidity.
Will we struggle with sin? Yes. But we are no longer slaves to sin. Period.
The Lamb of God offers us wings of freedom−freedom from sin, guilt, condemnation, shame, and a powerless life.
His loving sacrifice frees us to become all He created us to be in Him and for Him.
"Let us then approach the throne of grace with confidence, so that we may receive mercy and find grace to help us in our time of need." (Hebrews 4:16, NIV)
Yes, we'll experience tough times and even want to quit.
Sure, we'll fall short, slip up, and wonder why we even bother trying. But that's the key!
When we're focused on ourselves, we tend to draw from our own power, our own strength, our own wisdom, our own courage.
As we steady our focus on Jesus, we can recognize our complete dependence on His power and ask Him to help us live in full surrender to His Spirit.
Surrendered prayers are seasoned with desperation.
Lord, I need You. I can't do this without You. Be my strength. Show me the way. Give me the courage to follow You. Help me trust You. I believe You, Lord! Help me with my unbelief!
These are the prayers I want bursting from my heart and out of my mouth, to slide down my cheeks as words escape me as easily as my tears.
How about you?
Are you slipping into sin because it feels easier to give up than risk failure?
Are you damaging current relationships because you can't let go of sinful behaviors you practiced in past relationships?
What hinders you from receiving the wings of freedom offered by the glorious Lamb of God?
Thank You, Lord, for knowing we could never do for ourselves what You have done for us. Please help us live in the freedom of knowing Your grace is sufficient, Your power is made perfect in our weakness, and Your sacrifice was and is and always will be enough. Reveal Yourself to us more and more each day, so that we'll be able to see ourselves and others in light of Your truth, cradled in Your grace, and wrapped in Your perfect love. In Jesus' name, Amen
—–
Thanks for joining me for this week's installment of "Meeting Jesus Face-to-Face in the Gospel of John." If you don't know Jesus, yet, or if you want to know Him and trust Him more, I encourage you to join me next week for "Come and See," asking God to meet us where we are and transform us from head to heart.
—–
Pick Up Your Wings! – Photo used with permission from photographer L. Escareno
Meme Created by X. E. Dixon
—–