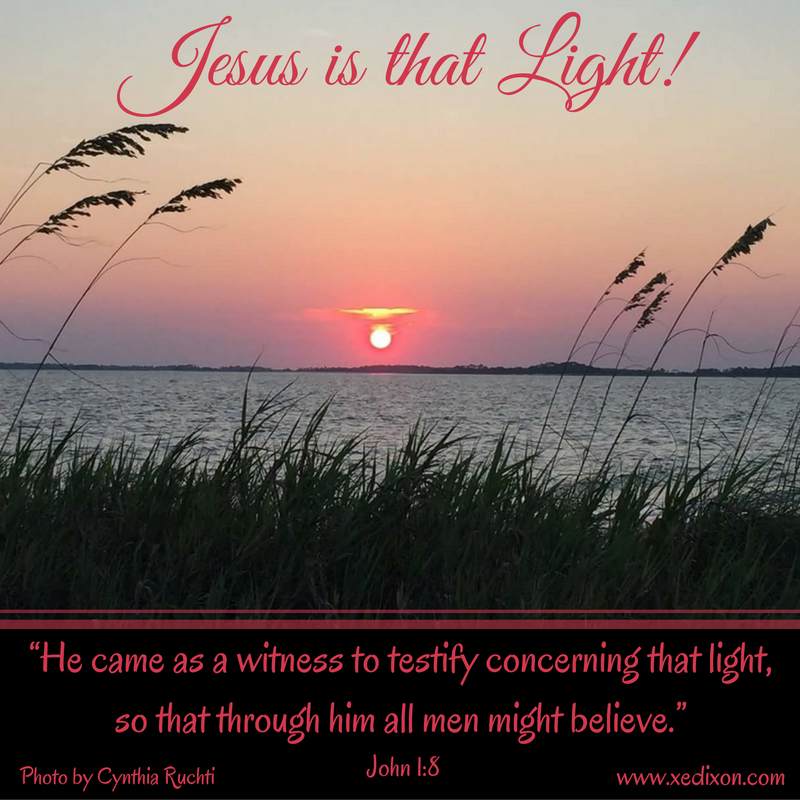 "There came a man who was sent from God; his name was John. He came as a witness to testify concerning that light, so that through him all men might believe. He himself was not the light; he came only as a witness to the light. The true light that gives light to every man was coming into the world." (John 1:6-9, NIV)
I'd done it again. I'd failed to be a good witness testifying about "the Light" who had given me a new life, a life that proved no one was out of God's loving reach.
Why should God keep welcoming me into His grace when I couldn't always tame my ornery tongue? Why should the Lord give me more opportunities to serve Him when I struggled with controlling my temper, holding onto bitterness or unforgiveness, or slipping into old sinful attitudes?
Why? Because receiving God's love and grace don't depend on my earning ability.
I'm not the one people are supposed to be focused on. I'm not the one who began God's good work in me. I certainly can't be trusted with the ongoing process of changing my life so that I will reflect Christ.
I can't change myself, or anyone else.
This truth becomes more evident and freeing the more I learn about God's incredible love and grace, the more I surrender to His Spirit, and the more my Life Changer corrects my thinking and surprises me by helping me obey Him, a little bit more each day, even when my first response is to be stubborn, selfish, or self-reliant.
Determined to give God glory for what He's done and is doing in and through my life, I long to point to Him without trying to run away from the testimony He's given me, without trying to hide my failings or deny my weaknesses.
I have a new life in Christ and I want the world to know His hope is accessible to all who believe, all who repent and turn away from sin, all who confess Jesus as their personal Lord and Savior.
As I ask God to help me be a bold witness for Christ, I look to the apostle John who shares the story about John the Baptist, a man chosen and devoted to pointing people to Christ, the Messiah.
When I think of witnesses, I picture people who see something and share the details of what they saw with others. But the Greek word used in this verse is the same word from which martyr is derived. Martyria is a noun that means testimony and evidence.
In this New Testament context, to be a witness to the Light seems to require a personal encounter and sacrifice, not a second-hand description of an event that doesn't impact the storyteller on an intimate level.
It's clear John the Baptist had a defined purpose, too, a purpose shared by all followers of Christ. He testified "concerning the light, so that through him all might believe" (John 1:7, emphasis mine).
The Greek word used in John 1:7 incites a deep commitment.
Pisteuō means "to put one's faith in, to trust with an implication that actions based on that trust may follow" (Strongest NIV Exhaustive Concordance, emphasis mine).
Christ followers are called to action, to live like we believe what God says in His Holy Word.
But first, we must personally submit to the authority of the "true light that gives light to every man" (John 1:8).
The moment we profess Jesus as Lord, repent and turn away from our sins, and receive Christ as our personal Lord and Savior, every believer is given the gift of the Holy Spirit.
Through Him, we will be able to live by the power of the Spirit and attest to the Light, who is and always will be Jesus.
Unfortunately, we often choose not to tap into God's power in us.
It feels less risky, less weird, and certainly more acceptable and comfortable to rely on our own strength instead of God's supernatural strength.
It seems more reasonable to muster up our will power and try to make changes in our thinking patterns, or to make better choices.
But eliciting our own life-transformation sabotages our relationship with God by sucking us into an insane cycle of self-destruction, aka self-help.
That crazy-train-to-nowhere-good thinking deceives us into believing we have the power to change ourselves by ourselves, if only we just try harder or work smarter, if only we muster up more than one mustard seed of faith, if only we use the "right words" in prayer or surround ourselves with the right people.
But when we admit the depth of our need for Christ, not just for the promise of eternal life but to live as His ambassadors and join His work each and every day on this side of eternity, we can invite Him to change us forever.
The Holy Spirit will help us trust God's unchanging character, so that we can believe every God-breathed Word of Scripture taken within the context of His whole story.
Faith sprouts from our testimony, as we boldly share evidence of God's grace in our lives, proof that we can be confident in God's abilities, motives, faithfulness, and boundless love for us.
When we bow down in reverence to our Lord, admitting our weaknesses and accepting our total dependence on Him, He is the One who raises us up.
He cinches us to hope in this world until we meet Him face-to-face in eternity.
Through the Holy Spirit's life-transforming power, we can submit to Him with loving obedience and live as His witnesses, His representatives, His worshippers, His servants, and His beloved children.
We can keep right on pointing to Jesus, grateful that our salvation and our success as His witnesses are not dependent on our strengths or weaknesses, but on His power, His goodness, and His endless love and grace.
Hallelujah!
Lord, thank You for assuring us that we can't possibly do Your job. Please help us allow You to be our Savior, instead of trying to save ourselves or others. Help us share the ways You're working in and through the ordinary and extraordinary moments that make up our testimony, so that You can magnify the power of Your Holy Name. Thank You for the peace and hope that come from knowing we can do nothing apart from You. In Jesus' name, Amen.
—–
Why is it is sometimes difficult to admit our total need for Christ?
How has God used someone else's testimony to help you believe in Him and His life-changing power?
—–
Thanks for joining me for this week's installment of "Meeting Jesus Face-to-Face in the Gospel of John." If you don't know Jesus, yet, or if you want to know Him and trust Him more, I encourage you to join me next week for "Believing and Receiving." Together, we can continue to ask God to meet us where we are and transform us from head to heart.
—–
MEME created by Xochitl E. Dixon with photo taken by and used with permission by author and speaker Cynthia Ruchti.
—–