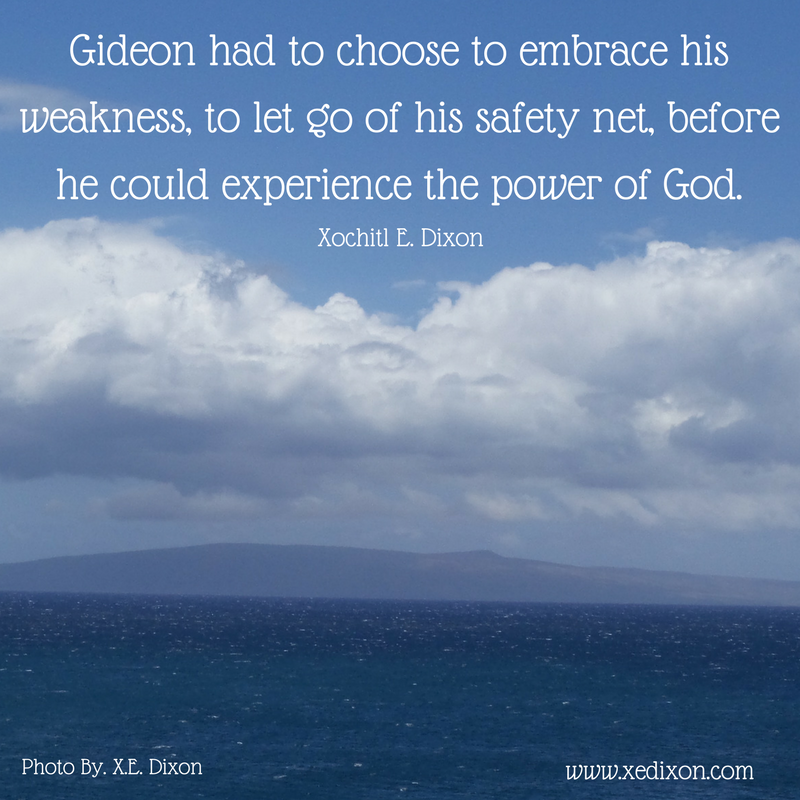 (Suggested Reading – Judges 7:1-25)
In 2014 my mom was diagnosed with Leukemia, which required a bone marrow transplant. I was recovering from my first of two shoulder surgeries and working with doctors to manage the constant high-level pain caused by my upper thoracic back injury.
Still, I immediately agreed when my mom asked me to serve as her caregiver. It wasn't until I hung up the phone that reality hit.
How was I going to care for her when I was right in the middle of my own healing journey?
My husband comforted and encouraged me, as I sobbed and prayed. What were You thinking, Lord?
A few months after my second shoulder surgery, an injection in my back, and a new medicinal plan that would hopefully help me manage my pain while I cared for my mom, I flew to Seattle.
I suffered constant pain every day. And every single day, the Lord showed up and carried me through.
Just when I thought things couldn't get any harder, I tore muscles in my hip and pelvis.
The injuries in my shoulders and upper back flared up as I hobbled on crutches for weeks, cooking, cleaning our small living space, and monitoring my mom's meds (and mine).
I learned how to depend on God the most on those days when I had no strength of my own.
My faith deepened as I watched my mom trusting God through her healing journey, too. She would read daily devotions from Jesus Calling, pray for others, and rely on the Lord daily.
During our time in Seattle, my mom and I were like our own little army against the world.
We took every step by faith, depending on God completely, surrendering to Him totally, and trusting Him implicitly.
To this day, I'm in awe at how the Lord brought us through the ordeal, how He blessed us with joy, peace, and strength we couldn't have mustered up on our own.
I think back on those difficult months often, with my mom now at peace with Jesus and me heading into the sixth year of my healing journey.
I consider how Gideon must have felt when the Lord asked him to face an army with a whittled down troop of soldiers.
God had already guaranteed Gideon the victory and proved He would be with him through the battle. He remained patient when Gideon struggled with fear and doubt. He reminded Gideon that his own strength was irrelevant.
With pared down troops, Gideon would have no choice but to put his trust in God's power, not his own abilities or the strength of his support system (Judges 7:1-6).
"The LORD said to Gideon, 'With the three hundred men that lapped [the water] I will save you and give the Midianites into your hands. Let all the other men go, each to his own place.'" (v. 7, emphasis mine)
God didn't snatch the soldiers away.
Gideon had to choose to embrace his weakness, to let go of his safety net, before he could experience the power of God.
 In compassion, the Lord still offered Gideon comforting reassurance (v. 10-11).
God knew his servant would experience moments when doubt or fear muscled out every ounce of courage he had managed to muster up.
So, He allowed Gideon to hear testimonies of what others saw in him as the Lord worked in and through his life (vv. 13-14). Though Gideon couldn't see past his own weaknesses, those around him witnessed God's power surging through his obedience.
The "mighty warrior" God had called forth rose up to the challenge before him, using the simple tools he had been given (vv. 15-16). There was no doubt the Lord alone defeated the enemy Gideon had once feared (vv. 17-22).
Gideon's courageous faith, made stronger through his moments of doubt and discouragement, emboldened those who witnessed the small army's victory against the Midianites (vv. 23-25).
We'll all face obstacles, enemies, or battles that seem impossible to overcome and make us feel inadequate.
When we feel too weak, too unprepared, too afraid to walk the path the Lord has paved for us, we can guarantee victory by lifting our arms in complete surrender to God.
We're strongest when we let go of the false sense of security wrapped in self-reliance and embrace our weaknesses, admit our absolute need for God, and rely on Him for everything.
Like Gideon, we may have a few set-backs that will require God's patient and loving pep-talks.
Because Jesus is the Author and Perfecter of our faith, there's no way our skirmishes with fear and doubt can determine the measure of our faith.
The Lord knows when we're weary, insecure, and in desperate need of His affirming love.
His sufficient grace is more than enough to help us when we're tempted to give God our own brand of fleece-tests (Judges 6:36-40) to determine His proven faithfulness.
As we rely on God, not self, we can embrace our weakness and experience the peace of His constant presence as we walk in the power of His Spirit.
Lord, thanks for being patient when we waver and for being our strength when we're weak. Please help us show that we accept the power You've placed in us by relying on You in all circumstances. In Jesus's name, Amen.
—–