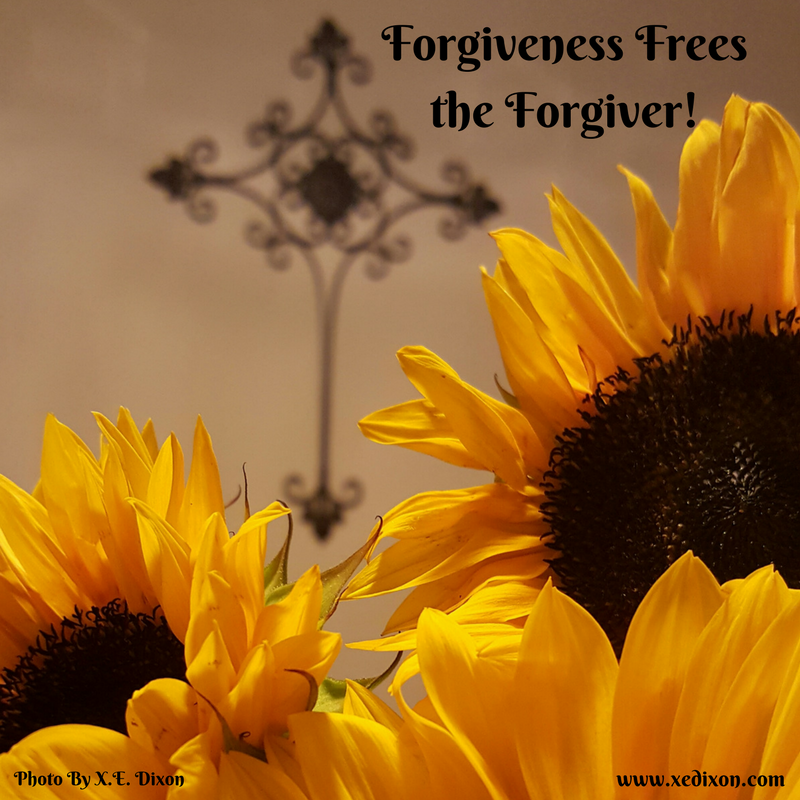 The first day I had the courage to step into a church, I came prepared for battle. Masking fear with my angry scowl, I shifted in my seat, picked my cuticles, and hoped no one would notice the too-huge-to-hide scars of my sinfulness.
As I heard the Gospel preached, the Lord patiently peeled back layers of my self-imposed guilt and shame. He knew my tender heart desperately needed His grace.
Still, I struggled. How could Christ, in all His perfection, forgive me for all the bad things I'd done, for all the times I'd rejected Him, for all the ways I'd hurt Him and others?
With loving gentleness, the Lord drew me deeper into His story.
The Father painted a perfect picture of mercy . . . Christ's arms stretched wide, heart overflowing with undying and unconditional love for the very ones who hated Him.
"Father, forgive them, for they do not know what they are doing." (Luke 23:34)
At first, I viewed God's lovingkindness as a reason for me to hang my head in disgrace and stamp my passport with endless guilt trips.
I had no idea how to process or accept the completeness of God's forgiveness possible through His grace.
I longed to feel forgiven.
But as I continued to focus on myself, I tightened the chains that bound me to guilt, shame, and feelings of unworthiness.
How could I forgive others when I hadn't truly received God's offer of forgiveness?
The Lord extended undeserved mercy, but I insisted on the self-imposed penance which hindered me from intimacy with Christ and others.
It wasn't until I gazed closely at the cross that I began to realize that me being undeserving was the reason Christ offered forgiveness as a gift.
I didn't have to, and couldn't possibly, deserve it, earn it, buy it, or work it off with good deeds.
After I rejoiced and eventually received His priceless treasure of salvation, I understood why I couldn't hold others under condemnation.
If I didn't deserve God's forgiveness, how could I demand others to deserve my forgiveness?
If I didn't earn God's grace, how could I insist others earn my grace?
If God didn't force me to pay off my debt of sin with good works, how could I expect others to keep trying to make up for hurting me or others?
If God didn't condemn me, why did I think I needed to live under the weight of guilt and shame after I'd repented, turned away from my sin, confessed and received His forgiveness?
King David racked up a list of sins when his idleness thrust him into a downward spiral into a pit of sin with Bathsheba (2 Samuel 11:1-4). Soon, the consequences of his sin couldn't possibly be hidden (v. 5).
Instead of repenting, he dug a deeper ditch of deception that led to the murder of Bathsheba's husband and the death of their son, who was conceived through their adultery (2 Samuel 11:6 to 12:19).
Though David begged God for mercy, he couldn't choose the consequences of his sin, limit the reach of those consequences, or prevent more innocent people from suffering.
Yet, he didn't blame God, either.
David couldn't change the past or fix what he'd destroyed, but he could repent and worship the Lord he trusted.
The king did his best to comfort his grieving wife, refusing to nullify the power and extent of God's love, mercy, and forgiveness by clinging to guilt and shame (vv. 20-25).
David and Bathsheba accepted God's forgiveness and forgave themselves, as well as one another (vv. 24-25).
"Forgiveness is worthless to us emotionally if we can't forgive ourselves." (Total Forgiveness, R.T. Kendall, p. 52)
Once we've received God's forgiveness personally, accepting the completeness of His gift, the Holy Spirit can empower us to live in peace and freedom from guilt and shame.
Forgiveness frees the forgiver.
If we forgive as we've been forgiven, we won't feel the need to shame our offenders or demand they feel guilty.
Radical forgiveness requires us to release our desire for punishment, which Kendall refers to as evidence of our own fear (p. 52).
But when we're prone to making others feel bad when they've failed or hurt us, it may be a sign that we're living in a cage of self-imposed condemnation.
Once we've repented and embraced the freedom of God's forgiveness, we can experience the elation of being guiltless and loved by Christ, the hope of being saved and renewed by grace. We can begin to see our smallness in light of God's majesty.
Repentance is an expression of gratitude and love for God and all He is and always will be.
If the Creator and Sustainer of the Universe loves and forgives us, who are we to hold ourselves or others under the wrath of guilt and shame?
Lord, thank You for the gift of forgiveness and grace that You offer freely and generously. Thanks for empowering us to repent and receive Your forgiveness, and in turn forgive others. Help us trust You to remain good, just, merciful, and loving to all. May You be glorified and Your power magnified, as You help us truly receive Your grace and extend grace to others as an expression of gratefulness and love for You. In Jesus's name, Amen.
—–