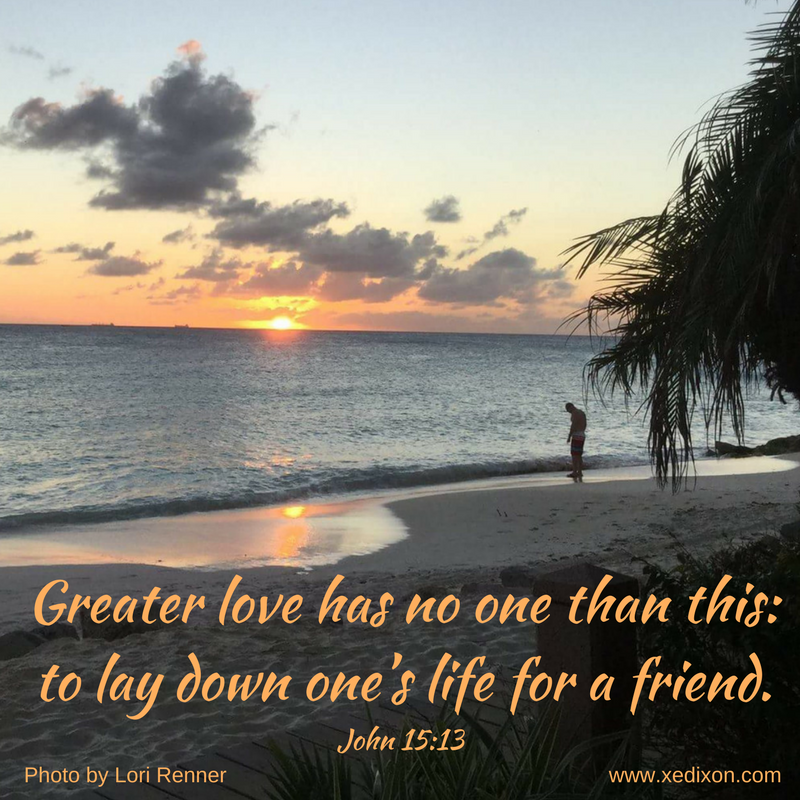 (Suggested Reading = John 15:9-17)
 As my husband and I recently celebrated our 23rd anniversary, I reflected on how my definition of love has changed over the years we've been married.
When I first met Alan, I measured love by hugs and kind words and deeds. I believed he loved me when he met my needs, when he gave me my way, when he made me feel happy, safe, appreciated, and important.
Then, I met Jesus.
His words touched a deep and wounded place in my heart, I had ignored for years: "As the Father has loved me, so have I loved you. Now remain in my love." (John 15:9, NIV)
The Father, the first Person in the Trinity, loves completely, generously, unconditionally, and eternally. Jesus, the second Person in the Trinity, loves like the Father. The Holy Spirit, the third Person in the Trinity, helps us love like Jesus, like the Father.
The concept of such love seems too vast and complex to even begin understanding, a goal too lofty for a flawed human being to attain. But Jesus claims it's possible if we remain in His love.
Because we've been given the Holy Spirit, it's possible to abide in Christ, to spend time with Him, to stay so close that our hearts are grafted to His.
This lifetime process of intimate communion with the Lord changes us a little bit at a time. We become more like the One who loves us perfectly, as He transforms our thinking and changes our hearts so that we can respond to Him, and to others, in Christ-like love.
The more I received Jesus's limitless love for me, the more my love morphed from selfish to selfless in my relationship with God, in my marriage, and in my relationships with others.
This is an ongoing process that's often thwarted by my sin nature, which feeds my fleshly desires to put myself first.
But Jesus asks His followers to love one another as He loves us . . . to love selflessly, willingly, sacrificially, and unconditionally (v. 12).
"Greater love has no one than this: to lay down one's life for a friend." (v. 13)
That can feel impossible, especially when it comes to loving those who have hurt us, those who have rejected us, and those who persecute us.
When I struggle with showing "greater love," I ask God to remind me of Christ on the cross.
When we truly consider how much Jesus loves us, so much that He gave His life for us, so much that He endured the shame of the cross, the ruthless and relentless persecution, rejection, abuse, and pain . . . it's harder to be selfish.
Jesus reminds us we are loved sacrificially and intimately (v. 14). We are called God's friends (v. 15). We are chosen (v. 16).
Being loved in such a way changes us . . . changes everything.
When we truly consider what Christ gave up, how He suffered physically and emotionally, especially when He willingly allowed Himself to be excruciatingly though momentarily separated from the Father when He took on our sins and took our place on the cross . . . how can we not respond with grateful praise as we rejoice in the life-changing power of greater love?
But greater love is risky.
Others may not love us back selflessly. Others may take advantage of us, hurt us, and leave us wounded by their selfishness.
They may demand their needs met. They may fight for their way. They may place personal happiness above all else.
I can't even count the times I've accepted the Lord's greater love, but still responded by demanding my needs be met, fighting for my way, placing my personal happiness above all else.
 But because of His greater love for us, God risks His heart for us every day.
When we first got married, my husband and I weren't even close to ready for greater love.
We loved one another selfishly. We wrestled for the right to be first. We competed to see whose needs were going to get met more often, to see who would get their way more often, to see who would get to be happier, even at the detriment of the other person.
We wasted many years getting all we could from one another that we failed to see the value of giving all we could to one another.
Wising up, by God's grace and in His mercy and power, we finally decided to submit to the Lord, and to one another, out of reverence for Christ, and longed to love like Jesus.
As we deepened our relationships with God and each other, He helped us to devote ourselves to greater love, to love selflessly, to give instead of demanding we get, to serve instead of scrounging for selfish gains.
By the power of the Holy Spirit, I began putting God and my husband first, serving the Lord and serving my spouse cheerfully as I gave generously.
I don't always get it right, neither does my husband.
But God's showing us the rewards of obedience (v. 14): fruit that lasts (v. 16).
Fruit . . . the bounty that results when we're committed to loving like Jesus, giving like Jesus, and serving like Jesus.
God knows our joy will be complete, our peace will be unshakeable, and our faith will be secured when we love Him by obeying Him.
Jesus laid His life down for us, showing us how to enjoy greater love by laying our lives down for others.
Greater love requires sacrifice, knowing God is the only One who can truly meet our needs because people are fallible and will always fall short.
Greater love requires faith, trusting God's way is better than our way.
Greater love leads to joy, which is so much better than happiness because it's not contingent on ever-changing circumstances or the fickleness of feelings.
Greater love changed my marriage and continues to change my husband and me.
Greater love−that Jesus kind of love−saved me.
The commitment to greater love is costly, but the rewards are remarkable and reciprocal.
Thank You for loving us and empowering us to love You and others selflessly, Lord. Please help us place You first, abide in You always, and trust You completely. Give us the wisdom and courage to submit to Your way, surrender to Your will, and celebrate Your greater love, as we live for You−Jesus−the One who gave all for us. In Jesus's name, Amen.
Are you really ready for greater love?
—–
Photo for meme taken by and used with permission from Lori Renner.
Meme Created by Xochitl E. Dixon.
—-