Alan and I got married before we surrendered our lives to Christ. We hired a reverend we'd never met before, a decision we'd come to regret and laugh about for years. One moment during our special day remains ingrained in my mind, mostly because my father-in-law snapped a timely photo of my unforgettable expression. Unfortunately, that snapshot reveals much about the condition of my heart at that time in my life. (You can see the scanned photos by following the links at the end of this post.)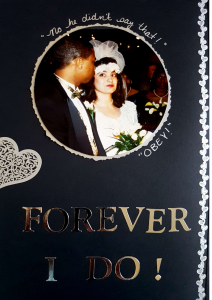 With wide eyes, I reluctantly repeated the reverend's phrase: "I take this man as my lawfully wedded husband . . . to love, honor, and . . . gulp . . . obey."
Obey?
My husband smiled, leaned closer, and whispered, "I bet that was tough to say."
He knew me well. Stubborn pride refused to see any positivity in the words obey, submit, or authority. This negative attitude caused unnecessary problems in my marriage and in my relationship with Christ.
Believing the depth of love God had for me, helped me learn how to love Him and others without fear.
But that journey didn't start until I surrendered my life to Christ and started to get to know this Almighty King on a personal level.
"The Word became flesh and made his dwelling among us. We have seen his glory, the glory of the One and Only, who came from the Father, full of grace and truth." (John 1:14, NIV,emphasis mine)
As I witnessed God's glory−the magnificence and radiant splendor of His unchanging character−grace replaced my selfishness, pride, criticism and thoughtlessness with true satisfaction, heart-deep peace, unexplainable contentment, and overwhelming thankfulness.
"From the fullness of his grace we have all received one blessing after another. For the Law was given through Moses; grace and truth came through Jesus Christ." (John 1:16-17, NIV, emphasis mine)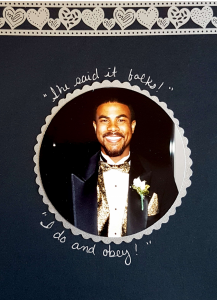 The more my relationship with Jesus deepened, the more I viewed myself and others through His grace. I grew to love, trust, and respect God, and eventually that love trickled into my relationships, especially the loving and respectful relationship I desperately wanted to share with my husband. Even though he still chuckles when we remember my blooper on our special day in 1994.
Though I still struggle with practicing obedience, surrender, and submitting to authority, I no longer tremble in fear when at the mention of these necessary displays of loving trust.
Falling in love with Jesus changed the way I viewed His command to obey His Word.
When I started seeing the Father as the first Person, the Son as the second Person, and the Holy Spirit as the third Person in the Trinity, I stopped seeing the Law as a list of limits.
"No one has ever seen God, but God the One and Only, who is at the Father's side, has made him known." (John 1:18, NIV, emphasis mine)
Through Jesus, through knowing Him and growing to love Him as He lavished me in love, I discovered the freedom and the abundant life available only under the covering of God's grace and fully manifested through a life surrendered to His Holy Word.
The Law in Jesus's hands saturates us in love, molds us in love, and penetrates our hearts in the wake of His life-transforming love.
In God's loving sovereignty, He established the Law to protect us and affirm our need for Christ. Because our sin nature separates us from our Holy God, Jesus came to fulfill, to uphold, and to carry out the Law, not to abolish it or replace it or change it (Matthew 5:17).
A quick skim through current events affirms that not much has changed. Man continues to rebel against God. But, rebellious spirits don't change truth, the reality of sin, or our need for being saved.
"Right and wrong are not determined by the voice of society but by the voice of God. The Ten Commandments declare the broad principles of God's moral law." (Green, p. 381)
Yes. Through God's moral law, God's people become aware of the sin that separates us from God. But, it's through God's grace that we're invited to enter a right relationship with God by believing and receiving Jesus, the Truth (John 14:6), as our personal Lord and Savior.
When Jesus was crucified, He cried out, "My God, my God, why have you forsaken me?" (Matthew 27:46; Mark 15:34)
For that moment, when God in the flesh hung on that cross and willingly took my sins−the sins of the world−upon Himself, the all Holy Father could not bear to look upon His one and only Son.
Imagine the pain of the Father, the anguish of the Holy Spirit, and the heartbreak of the Son as their perfect communion was broken because of God's irrevocable love for you, for me, and even for those who reject Him.
Not once does Jesus ask us to feel guilty. Not once does Jesus make us feel ashamed. He doesn't demand repayment or ask us to try to work off our insurmountable debt of our sins. Jesus simply invites us to accept His love and . . . simply and completely love Him back.
We show our love through our obedience, obedience that He empowers through His Spirit and by His grace.
Yes. The Law in Jesus's hands is love, through and through.
"This is love for God: to obey his commands. And his commands are not burdensome, for everyone born of God overcomes the world. This is the victory that has overcome the world, even our faith. Who is that that overcomes the world? Only he who believes that Jesus is the Son of God." (1 John 5:3-5, NIV)
Hallelujah!
Lord, we are so thankful that the Law is in Your hands and we're covered by Your immeasurable grace. Help us believe You, trust You, and obey You. In Jesus' name, Amen.
—–
Reflection:  Why do the words submission, authority, and obedience seem to have such negative connotations in the world when the Bible clearly teaches those words are positive, freeing, and life-giving?
—–
To see a full sized photo of my expression in response to the reverend asking me to "love, honor, and obey," click this link: did-he-say-obey-wedding-photo
To see an up-close-and-personal sized photo of Alan's delight after the ceremony, regarding my response to the reverend's request, click this link: did-he-say-obey-yep-wedding-photo
—–
Thanks for joining me for this week's installment of "Meeting Jesus Face-to-Face in the Gospel of John." If you don't know Jesus, yet, or if you want to know Him and trust Him more, I encourage you to join me next week for "The Lamb of God," asking God to meet us where we are and transform us from head to heart.
—–
Works Cited
Green, K. Zondervan All-In-One Bible Reference Guide. Grand Rapids, Michigan: Zondervan, 2008.
—–
Photo taken by and meme created by Xochitl E. Dixon
—–