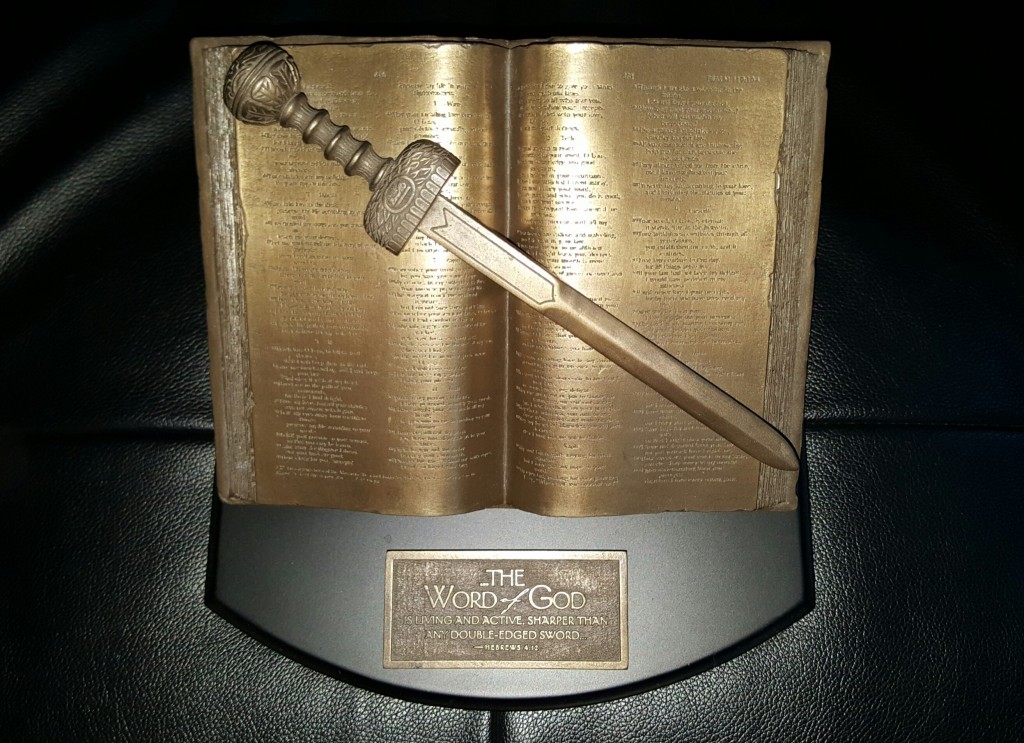 Years ago, we feasted during a dinner show at Medieval Times in Southern California.
Waitresses served our four course meal on metal platters piled high with large stalks of broccoli, a half of a chicken, and a baked potato the size of a nerf football.
Smiling barmaids poured soda refills before our large iron mugs reached the half-full mark.
Jousting knights faced one another in the center arena. Swordsmen performed an intricately choreographed dance of clashing metal. Clouds of dust rose and fell to the rhythm of each mighty steed's pounding hooves.
We finished our meals and raised our mugs as the king led his army in a victory lap.
The crowd cheered louder.
Eyes wide, I appreciated the diligence of the knights in shining armor. They must have practiced daily to become master swordsmen.
As a follower of Christ, I understood the necessity of learning how to wield a mighty weapon.
The apostle Paul prepares believers for the war this world rages against the King of Kings.
Paul writes, "Take up the helmet of salvation and the sword of the Spirit, which is the word of God." (Ephesians 6:17)
He says the sword of the Spirit is the Word of God, not like the Word of God.
He proclaims our need for the Holy Spirit in order to battle with courage, confidence, and clarity.
But before we practice, we must be nourished.
Our strength must be fueled as we recline at the King's table, prayerfully feasting on God's living and active Word.
Jesus says, "But the Counselor, the Holy Spirit, whom the Father will send in my name, will teach you all things and will remind you of everything I said to you." (John 14:26)
All three Persons in the Trinity are present in this one power-packed truth verse.
Jesus spoke, just as He continues to speak through Scripture now. The Father sends. The Holy Spirit teaches and reminds, just as He does while dwelling within Christ's disciples today.
Power surges from the sword of the Spirit. And it's our responsibility to learn how to use the sword the King has so graciously given to us.
"For the word of God is living and active. Sharper than any double-edged sword, it penetrates even to dividing soul and spirit, joints and marrow; it judges the thoughts and attitudes of the heart. Nothing in all creation is hidden from God's sight. Everything is uncovered and laid bare before the eyes of him to whom we must give account."  (Hebrews 4:12-13, NIV)
God's Word reveals, transforms, empowers and brings understanding.
And Jesus, King of Kings and Lord of Lords, demonstrates how to stand firm on the mighty Word of God.
In Matthew 4, the Holy Spirt led Jesus into the wilderness. The devil tempted Jesus, twisting Scripture, challenging the Son of God by spouting the Father's words out of context.
The lies didn't stump Jesus, Creator of the Sword of Truth and Master of Swordsmen−Jesus, the Word, the Truth, the Way, and the Life. He battled satan with Scripture.
The enemy attacks relentlessly, seeking to devour, discourage, and destroy the people of God.
Like the valiant knights in the Medieval Times dinner theater, we need battle drills.
Our practice requires nourishing our spirits and developing muscle memory through the study of and obedience to God's Word, daily.
The Holy Spirit strengthens our stride and arms us for battle, but we do not fight alone.
God fights for us and with us. He gives us troops to fight alongside us−the Body of Christ.
We need God. We need His Word. We need each other.
Running through daily drills, practicing and more practicing, familiarizes us with our trusty sword's sharpened edge and prepares us for unexpected attacks.
By God's grace and in His power, we can lift our hands in praise as our King leads us into victory, one battle at a time.
Lord, thank You for the honor and privilege of being invited to feast on Your Word. Thank You for empowering us to practice our swordsmanship through a lifestyle of worship and obedience. Please fill us with a sense of urgency and excitement to spend quality and quantity time with you every day. Arm us with clarity and understanding. Empower us to stand firm against the enemy's attacks. And nourish our souls with Your Truth as we share Your story with boldness of faith and courageous confidence. In Jesus' name, Amen.
—–
What is one thing you can do to make prayerfully reading and applying Scripture more of a priority in your life?
—–
"Wielding the Sword of Truth" by X. E. Dixon was previously published on the FBC Blog – June 11, 2015
A portion of "Wielding the Sword of Truth" by X. E. Dixon was previously published at www.xedixon.com on February 26, 2012
—–