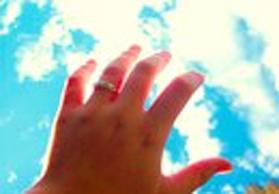 I'm tired.
Tired of being a dollar short and a day too late.
Tired of being told to be patient and wait.
Not smart enough. Not strong enough. Not good enough.
Just not enough.
Wear this. Have that. Do this. Be that.
Everyone wants it. Everyone does it.
Everyone gets it,
but me.
Sometimes, I want to scream.
But instead, I lift my head,
put on my mask,
smiling, self-relying.
I've got it.
This won't break me.
But, I'm lying.
Pressures. Tap.
Expectations. Tap.
Obligations. Tap.
The wind whispers, "Be still, and know . . ."
The paths beckon.
Which way should I go?
"I am the way, the truth, and the life."
Lord, how can I keep on
through suffering and strife?
I'm tired.
"Come to Me, all you who are
weary and burdened
and I will give you rest."
Lord, help me believe You. Help me receive You.
Help me know, it's only Your truth
I can cleave to.
I'm tired.
Tired of trying to be it all, have it all, control it all.
I'm one step away from losing it all.
Can't do enough. Can't have enough. Can't be enough.
But You,
Jesus, You are enough.
I'm tired.
I slump to my knees. Tap.
Trust You with my pleas. Tap.
Surrendered, I'm free.
Tap.
—–
Tappin' Out by Xochi E. Dixon, from the Life Psalms Collection, was previously published on the Real Teen Faith website on September 3, 2009.
Photo taken by and used with permission from Lauren Pfahlert.
—–