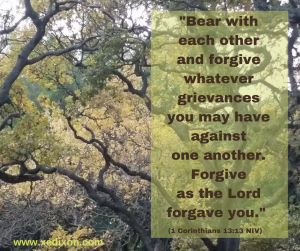 I adjusted my duffle bag over my shoulder and held the letter at arm's length, not impressed by the gray-speckled business stationary. My father's name overpowered the custom logo: Elias Whitaker.
Each word jabbed me straight in the gut. "I love you. I miss you. Please forgive me." Wadding up the paper, envelope and all, I tossed it into my wastebasket just as Mom passed my room.
"Brandon." She slipped through the doorway, dropped to her knees, and sifted through the trash. "Trust the Lord to work things out, Son."
How could I tell her I was on the outs with God, too? "Elias is dead to me."
"He's still your father." She stood, wiped her cheek, and unfolded the wrinkled wad of worthless excuses.
I scowled, torn between comforting my mother and wanting to bash a lineman into some turf. "Game's at seven. Gotta go."
My father had let me down again and again. My heavenly Father's record wasn't much better.
The Lord is close to the brokenhearted.
"Yeah, right!" I threw my gear into the passenger seat, swept a half-empty bag of barbeque chips onto the floor, and slid behind the steering wheel.
Elias traded us in for a new wife and their baby, born a month after the courts made the divorce official. Even without Honor's classes, I could do the math.
I downed an energy drink as I sped to the stadium. What if I never made it to the game?
The thought of my mom alone in the bleachers slammed me back into reality. That wouldn't make things better, for me or her. I crushed the empty aluminum can and hurled it at the dashboard.
***
A month later, Elias moved to the East Coast with his new family. He called less, making it easier for me to stay mad.
When my anger erupted into punching walls, Mom shipped me off to a boot camp, for my own good. At the Mount Calvary Youth Retreat, under a sky splattered with stars I never bothered to notice before, I asked God to help me believe Him again.
Mom accepted my apology without a hitch when she picked me up from the church a week later.
I grabbed my dusty Bible from my closet as soon as I got home. She'd stashed the crinkled, gray-speckled envelope between the crisp pages. Good try, Mom.
Shoving the letter in my sock drawer, I set the black leather book on my nightstand.
I read Scripture daily, went to youth group weekly, and served in the sound booth once a month.
As a master at tuning out sermons and skipping over verses that taught forgiveness, I clung to bitterness like a fourth quarter lead on the scoreboard.
***
A few months before graduation, Mom got a call from Elias' cell phone. After two full weeks of praying, I hopped onto an eastbound plane. I unpacked my carry-on in my aunt's guest room and thanked her for letting me borrow her Cadillac.
I inhaled the scents of new leather, coffee, and my aunt's fruity hugs, as I obeyed the GPS lady. Pulling into the parking lot, I glanced into my rearview mirror. "Too late to turn back now."
Scattered oak trees, their gnarled branches hardened and scarred, stood firm against the bullying wind. Glaring at the manicured lawn, I hunched out of the car, staggered by a slap of cold air.
I zipped up my letterman's jacket until the collar choked me, followed the directions I'd been given, and mumbled under my breath. "What am I doing here?"
Do not judge, and you will not be judged. Do not condemn, and you will not be condemned. Forgive, and you will be forgiven.
Slumping onto the designated concrete bench, I blew into my palms and rubbed them together. "Lord, help me."
Nothing.
Billowing clouds darkened the horizon. Why would God answer me? All this time, I gripped hate like a game winning catch. I shut my father out. Always disappointed, defiant, demanding.
But today? Defeated.
Boots clump-clumped on the cobblestone walkway.
My grace is sufficient for my power is made perfect in weakness.
I prayed for the courage to let go, as the steps stopped behind me.
How could I be forgiven for all the times I'd spoken without considering the serrated edges of my insults?
Blessed is the man whose sin the Lord will never count against him.
Shifting winds hacked away the last of my resistance. I stood, head lowered. Turning toward the stranger, I whispered, "I'm sorry, too."
He stooped just long enough to place flowers on a neighboring, weathered headstone.
Facing the pale marble in front of me, I read the words carved across its polished surface: Elias Whitaker, Beloved Husband and Father.
My slow obedience always had me lagging three steps behind and, this time, two weeks too late.
Jaw clenched, I plodded past the stranger. I bet he didn't miss out on the years replaced with a dash on his loved one's grave marker.
Crackling leaves whipped around me, scraping across the cobblestones as I trudged toward the lonely parking lot. I squinted as the sun pierced through the gray clouds, rays of light cutting across the dark canvas.
Bear with each other and forgive whatever grievances you may have against one another. Forgive as the Lord forgave you.
Sliding into the driver's seat, I placed my hands at ten and two. "I really do forgive you, Dad." A breathed prayer slipped over my lips. "Help me forgive myself, too, Lord."
The stuffed yellow bunny I'd picked up at the airport smiled at me from the passenger seat. I adjusted the floppy ears and lopsided pink bow. Not perfect, by a long shot. But, it was a start.
And now these three remain: faith, hope and love. But the greatest of these is love.
"All right." I turned the key in the ignition. "It's about time I meet my little sister."
———–
The original version of "The Apology" by Xochi E. Dixon, First Rights only, previously published by ENCOUNTER – The Magazine, Sept 16, 2012
An edited version of "The Apology" by Xochi E. Dixon, published in Inspire Victory, 2014.
This version of "The Apology" by Xochi E. Dixon, edited to under 1000 words, as is customary of Flash Fiction, January 2016.
———-
Scripture Used (In order of appearance):
The Lord is close to the brokenhearted. (Psalm 34:18; 2 NIV)
Do not judge, and you will not be judged. Do not condemn, and you will not be condemned. Forgive, and you will be forgiven. (Corinthians 12:9a NIV)
My grace is sufficient for my power is made perfect in weakness. (Colossians 3:13, NIV)
Blessed is the man whose sin the Lord will never count against him. (Luke 6:37)
Bear with each other and forgive whatever grievances you may have against one another. Forgive as the Lord forgave you. (1 Corinthians 13:13 NIV)
And now these three remain: faith, hope and love. But the greatest of these is love. (Romans 4:8 NIV)
—–