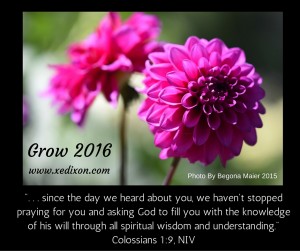 Growing spiritually requires abiding in Christ and being rooted deep in the Word of God.
In just 15-30 minutes of reading a day, we can journey through the entire Bible in one year.
We can learn God's whole story and experience His presence powerfully.
This year, I'm using a simple schedule delivered via email through the Christian Broadcasting Network (http://www1.cbn.com/spiritual-life). To join me, just click the link, scroll down to the Bible Reading section, and sign up.
Each week, I'll share a short reflection on my blog.
I invite you to comment or share how God's using the daily readings to help your grow closer to Him and others.
When we think of the daily readings as a task or obligation, the journey can feel like a burden.
Remember, this commitment is an act of grateful worship.
Spending time reading God's Holy Word is good stewardship, a nurturing of our personal relationship with Christ, an offering of our treasured time to the Maker of time.
As we ask the Holy Spirit to meet us where we are, He'll make each verse feel like an intimate conversation with God.
He'll reveal His character as He transforms us inside and out with His truth.
We don't have to understand everything.
This isn't the place for theological debates, though questions are expected and welcomed.
If I don't know the answer, I'll be glad to find someone to help.
But, only God knows everything.
Our goal isn't to learn it all.
Our goal is to familiarize ourselves with God's story so that we can know Him better as He reveals Himself personally in His Word.
This day-by-day, lifetime process results in loving God more, as well as knowing and loving ourselves and others in light of His truth.
Setting and keeping a daily date with Jesus, as a priority not an afterthought, works best for me when I commit to a reading schedule.
If you're busy and always on the run, you can pack up your Bible and read whenever you have a moment of down time, while you wait, or during a break or lunch.
When you read God's Word in public be prepared for divine appointments, though.
God has blessed me with countless opportunities to minister to others, pray with strangers, and be encouraged by His people when I read my Bible in public.
Having an accountability partner helps, too.
Alan and I have been reading the Bible daily together since 2005.
Every year we learn something new and are changed, strengthened, and encouraged as God reveals Himself through His Holy Word.
If you choose to join this growing adventure, please leave a comment with your first and last name below so I can add you to my prayer list.
I look forward to growing with you, Sister!
Lord, thank You for Your inerrant Word. Please help us remember that time spent seeking You in the treasure of Your Word is a privilege and an expression of loving worship and gratitude for who You are and all You've done. May Your name be magnified as we read Your whole story, Your love letter to us, one verse at a time and one day at a time throughout the year. In Jesus' name, Amen.
—–
Meme Created By: Xochi E. Dixon
Photo Taken and Used with Permission By: Begona Maier
—–