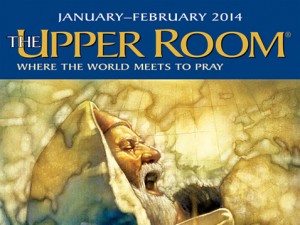 Over two years after submitting my devotion to be considered for publication, "The Master Craftsman" is being read internationally in The Upper Room magazine and online on February 18, 2014.
To God be the glory for this humbling privilege, as I'm blessed with the opportunity to serve through the ministry of The Upper Room.
This devotion was inspired by my dad's passion for carving beautiful artwork into his custom made quivers, as well as my desire to see others, and myself, as God's amazing masterpieces.
Please pray the Lord will overwhelm readers with His love as they read this simple reminder of our incredible design, priceless value, and unique purpose as God's awesome creations.
I have already been blessed by the comments from the community of Upper Room readers who encourage one another and are ministering to my heart through their amazing faith and love for God's people.
To read and share "The Master Craftsman," please visit The Upper Room blog, where you can also see photos of my dad creating his leather masterpieces.
I'm grateful for your continual support in reading and sharing my work.
But most importantly, I'm thankful for the opportunity to grow with you as we walk by faith, one Spirit-empowered step at a time.
—–