In 2001, I stole my first Bible and committed my life to Christ.
I had no idea what to do with the Bible. I had no clue where to start reading. And the parts I read, I didn't understand. So, I quickly allowed that Bible to become a decoration on my shelf, collecting dust while I struggled to change my life.
Still, I wanted so badly to be a good Christian, so I did my best to imitate the people who went to church with me. Yeah, well, that didn't work out so well.
One day, a dear friend gave me a brand new Bible with my name printed in gold letters on the cover. I kept it safe in the box, afraid to damage the crisp pages.
When she noticed I was still carrying my stolen Bible to church every Sunday she asked me about the Bible she had given me as a gift. I told her I was afraid to mess it up. She looked at my stolen Bible, which still looked brand new, and said fifteen words that the Lord used to nudge me onto the path of the greatest adventure I could ever imagine.
"If you want God to change your life you have to read His Holy Word."
Her words taught me two very important things. It's God, not people, who transforms lives. Our part is to listen, to allow the Holy Spirit to give us understanding as we prayerfully read the Bible and obey with a heart fully surrendered to Jesus.
After wiping the crumbs of humble pie off my cheeks, I started out small. I joined one Bible study after another. I read a few excerpts from the familiar books, here and there.
But I longed to know God more. I yearned to experience Him and to be transformed by His Truth. So, in 2005, when my neighbor invited me to read the Bible in a year, I accepted the challenge.
I was amazed to discover that it only takes 15-30 minutes per day to finish the whole Bible in one year!
My husband and I have been reading through the Bible yearly ever since.
Our lives have changed. Our marriage was saved. And every year, we continue to experience the Lord's transforming power as He deepens our faith. As we continue in our commitment to seek Him daily, God uses His Truth to refine us as He empowers us to obey Him.
The One Year Bible reading plan is designed to familiarize readers with the Bible. This type of reading doesn't take the place of deeper study of the Word. But my husband and I will both testify that, through the yearly reading plan, God never fails to change us a little bit more every day.
Tomorrow I'll be finishing my 2013 jaunt through The One Year Bible. If you've been reading my blog, you'll know this has been a difficult year of affliction for my family.
Through the toughest days, God has used His Holy Word to comfort me, change me, deepen my faith. But, more importantly, I have grown to know Him better.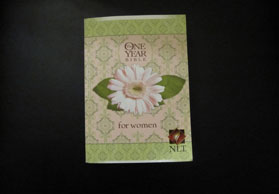 This year, I'd like to invite you to join me on a Bible reading adventure. In 2014, I'll be signing up for The One Year Bible Online plan. The daily reading is sent directly to your email. There's even an option to receive the daily readings via text.
With this amazing technology, there really is no excuse for us to miss out on the awesome opportunity to get to know God better and be transformed by His Truth.
Scripture says: "As for God, his way is perfect; the word of the LORD is flawless. He is a shield for all who take refuge in him. For who is God besides the LORD? And who is the Rock except our God? It is God who arms me with strength and makes my way perfect. He makes my feet like the feet of a deer; he enables me to stand on the heights." (Psalm 18:30-33, NIV)
In 2013, I learned just how much I need to know what God says in the Bible.
When my circumstances had me worn and weary, ready to quit, crying and feeling as if I was at the end of my rope, the Holy Spirit would bring me back to His promises. Even verses I didn't know I had memorized would pop into my head just when I needed them most. The years the Bible reading have helped me to know God's character, so I have been able to rely on His grace when it was hard for me to trust Him.
I hope you will prayerfully consider joining me on this life-changing adventure.
I'll be reading through the New American Standard Bible, updated edition (NASB) in 2014. If you're new to reading the Bible, I recommend the New Living Translation or the New International Version.
The One Year Bible is available in a Kindle version, which I used in 2013, and in paperback. I found that having the Bible already separated into the daily readings made the experience easier and recommend this option if you're a first-timer.
Please let me know if you'll be joining me so I can pray for you.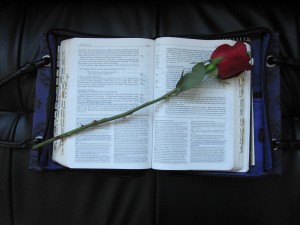 I'll be blogging about what God is revealing to me through this journey and would love to have you share your heart or post questions and comments on my blog.
I'm looking forward to growing with you!
Lord, we're so grateful for the treasure of Your Holy Word. Thank You for blessing us with the privilege of nurturing our personal relationship with You through prayerfully reading the Bible. Please give us understanding and help us remember that Your words should be interpreted in the context in which You delivered them. Help us to always pray before reading the Bible and to approach this experience as a daily invitation to be transformed by Your love as You unfold Your whole story, right before our eyes. We love You and praise You, Lord. And, oh, how much we need You. In Jesus' name, Amen.
—–
I would love to connect with you on through my Facebook Author page. I offer encouragement, prayers and updates on my writing journey through social media and am excited about the opportunity to fellowship with you as we grow in Christ, together, in 2014!
—