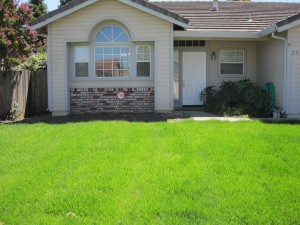 "But thanks be to God, who always leads us in triumphal procession in Christ and through us spreads everywhere the fragrance of the knowledge of him."
2 Corinthians 2:14
A few years before we sold our first home, my husband decided our front lawn needed a make-over.
The week before the pallets of sod arrived, he spread twenty-five bags of fertilizer over the entire yard. I took one step outside our front door and discovered that cow manure is one of the main ingredients in this special mixture.
After the sod was in place, I admired the perfect green square from behind our closed kitchen window. Blades of grass sparkled with beads of water from the sprinklers.
As I wondered how something so beautiful could smell so bad, I thought about what Jesus said when He confronted the Pharisees in Matthew 23:28: ". . . on the outside you appear to people as righteous but on the inside you are full of hypocrisy and wickedness."
Like my lawn, the Pharisees looked good on the surface. But Jesus made it clear that the stench of sin seeped through their facade.
Asking God to reveal my sin gives me the opportunity to repent before I start reeking with un-confessed sin. But just like admitting my lawn was smelly did not make the stink disappear, confessing does not mean I will automatically stop sinning.
I embraced the process, patiently, as the fertilizer was absorbed by good soil, making my lawn eventually smell as great as it looked.
In the same way, when we allow God's Truth to saturate our hearts, our words and actions will begin to reflect Christ.
Like my water-jeweled lawn, we will sparkle in the light of the sun with a pleasing aroma as we witness to the people God brings into our lives.
Lord, show us where we're covering up or justifying sin. Make our lives a perfume of praise that is pleasing to You. In Jesus' name, AMEN
I make it a habit to pray over Psalm 139:23-24, asking God to reveal anything that will hinder me from being fragrant for Christ.
It takes time for God to sift the soil of my heart and renew my thinking as He saturates my mind with His truth. The clean up process isn't always pain-free, but the fruit is always eternal and God honoring.
What do you do when you realize you're not responding to situations in a way that reflects God's love and grace?