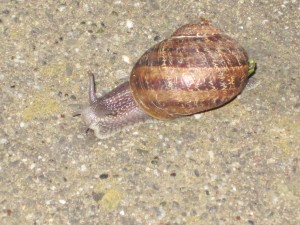 When I saw this snail inching down our walkway, I couldn't help but admire his tenacity in completing the journey set before him. What I didn't envy was his speed.
I stepped over his slimy trail, a straight line of purpose and courage, thinking how hard it is to be persistent in plowing through the mundane days of life, much less the times of adversity. But the Bible warns us what happens when we don't move forward with purpose and perseverance.
"Those too lazy to plow in the right season will have no food at the harvest." (Proverbs 20:4, NLT)
The last thing I'd ever want to admit to is being a sluggard.
I don't mind hard work. I believe in earning my wages and investing time to receive fair compensation. I certainly don't want to take what I have for granted, or steal what doesn't belong to me. I don't even want to waste time pining over what I think should be mine, comparing myself to others or being critical of how God is using His chosen people.
When it comes to my spiritual life, though, being a sloth is easy to disguise.
We can look busy with a whole list of religious activities and be dying inside as we neglect our spiritual life.
But, we can't fool God!
This year, He's had me on a journey of longsuffering. The Lord's been revealing Himself in amazing ways as He leads me through this season of plowing hard ground filled with rocks of adversity.
I recognized the spiritual attacks that were beating my family down in the areas of relationships, finances, and health.
Even though I wanted to work hard to keep the rows straight and the soil fertilized, I became weary and discouraged.
I realized I was relying on my strength, not God's. But I had no idea what to do to fix it. So, I did nothing and felt like a total sluggard.
Through these months of affliction, I discovered several reasons for laziness. It was hard to admit I was stumbling over three of the worst stones of sloth-dom.
Yes, laziness could be a result of idle hands, a lack of motivation or an abundance of entitlement. But often, laziness is a defense mechanism, a response to fear, self-doubt, and unbelief in God's ability.
Plowing is back-breaking, brow-sweating, hard work that requires commitment, diligence and divine intervention to ensure finishing well.
Jesus said, "No one who puts his hand to the plow and looks back is fit for service in the Kingdom of God." (Luke 9:62)
But He also reminds us we can do nothing apart from Him. (John 15:5)
When we surrender and trust God to be our strength, we're empowered to shake off the shackles of sloth-hood and do our part. The Lord will plow through our brokenness, sift out our sinful habits and nourish the soil of our hearts, so His seed can flourish and transform us forever.
Only God knows the right season for plowing.
Only God knows how deep He needs to penetrate our hardened hearts.
He also knows if His blade should be flat or beveled, depending on the condition of our soil.
His goodness protects our tender spots.
"But the one who received the seed that fell on good soil is a man who hears the word and understands it. He produces a crop, yielding a hundred, sixty or thirty times what was sown." (Matthew 13:23)
Like the snail, I want to be persistent and committed to my purpose. But, it's my heart's desire to rely on God's strength, not my own, and trust Him with every moment of the journey, no matter how long it takes.
Lord, forgive us for shirking from doing our part during the plowing seasons of our lives. Forgive us for complaining when we don't see the quick harvest we desire. Please help us identify the areas in our life where we may be content with laziness, no matter what the cause. Sift us with Your endless mercy and bring about abundant harvests of spiritual maturity and faithful obedience to Your Word. In Jesus' name, amen
——-