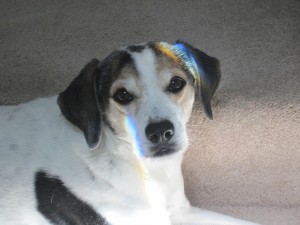 Jazzy balanced herself on the narrow step. She soaked in the warmth from a small patch of light that beamed through a high window in our front room. Rays reflecting through the glass chandelier painted a rainbow on her head.
As the sun warmed her fur, she began to close her eyes.
While snoozing on a staircase didn't seem like a good idea to me, I wasn't worried about my precious pooch. I just kept staring at the rainbow resting on her forehead.
It was like a kiss from God.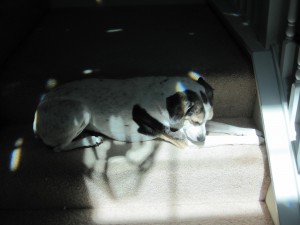 You're covered by My promises, no matter how precarious your current position may be.
This was a message I desperately needed to hear.
Right smack in the ninth month of my husband's unemployment, the enemy seemed determined to tempt me into despair.
Although we have no income, we praise God that our savings lasted us a full eight months. But, with rent due on April 1st, and with no idea how we were going to pay our bills, I started to feel the pinch of discouragement.
Immediately, the Lord sent his angels to minister to us.
They arrived at intervals to replenish our hopes and our bank account.
And last week, Alan received his first interview. He's in the fourth stage of the interview process. If all goes well, he will start work on April 1st! Hallelujah!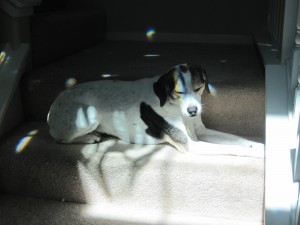 As I scratched Jazzy behind the ear, I thanked God for reminding me that we can trust Him as we teeter on the edge of uncertainty.
The prophet Isaiah proclaims:
"But now, this is what the LORD says?he who created you, O Jacob, he who formed you, O Israel: Fear not, for I have redeemed you; I have summoned you by name; you are mine. When you pass through the waters, I will be with you; and when you pass through the rivers, they will not sweep over you. When you walk through the fire, you will not be burned; the flames will not set you ablaze. For I am the LORD, your God, the Holy One of Israel, your Savior…" (Isaiah 43:1-3a, NIV, emphasis mine)
As I watched my pooch resting peacefully on the narrow step, a rainbow caressing her forehead, I realized the powerful truth behind these verses.
Not if, but when, we're afflicted, we can stand in courage because of Who God is and because He's always with us.
We may not know where our manna is coming from tomorrow, but we trust God will provide. We've got rainbows splashing across our staircase to prove that His promises still stand firm!
Hallelujah!
"Keep your lives free from the love of money and be content with what you have, because God has said, 'Never will I leave you; never will I forsake you.' So, we say in confidence, 'The Lord is my helper; I will not be afraid. What can man do to me?'" (Hebrews 13:5-6, NIV)
—–