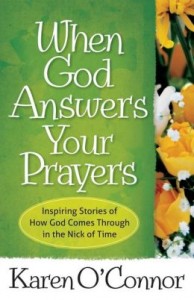 When I was at the Christian Writers Seminar, I discovered Karen O'Connor's When God Answers Your Prayers: Inspiring Stories of How God Comes Through in the Nick of Time.
I wanted the book because I needed it. But my husband, who has been unemployed since June 2012, reminded me of our budget. We had agreed on a one book limit and had already purchased the 2013 Writer's Market Guide. Bummer!
I couldn't really complain, though. After all, we had received full scholarships to attend the conference. I was thankful God provided and was reminded that we had no idea how we were going to pay our rent in March.
Over the last eight months, we prayed for peace. God gave it to us in abundance. We prayed God would provide a job for Alan. The crickets kept singing as my husband received one 'no' after another.
But, we keep right on believing that our Heavenly Father is in control. We're praying He will continue to open and close doors as He sees fit.
Even though we have faith, our flesh struggles. "We're trusting You in the job search, Lord, but we could use a miracle to help us pay the rent that's due in a couple of days."
On Monday we reviewed our options. Could we borrow against our retirement? That would mean in April we'd have a brand new bill to pay back, praying Alan would have a job by then.
"If only the insurance company would send back the $1,500.00 they owe us!"
Yes. If only.
On January 1st, COBRA took out $1,700.00 from our bank account even though we had cancelled our account. My husband called weekly to find out why our refund had not come in the mail. Every week he was given the run around.
But on Monday, the woman on the phone promised she would get us the check, possibly overnighted. We'd heard that before, so we asked God to help us not to give in to worry and doubt.
He knows our needs. He's in control. And He's always right on time! "Lord, help me to believe these words that are coming out of my mouth!"
At 9:30am on Tuesday, our doorbell rang. As soon as my husband walked upstairs, check in hand, we thanked God for His perfect timing. Although we don't know how we'll be able to cover our other bills, our rent will be paid on time! Hallelujah!
Scripture says: "But do not forget this one thing, dear friends: With the Lord a day is like a thousand years, and a thousand years are like a day. The Lord is not slow in keeping his promise, as some understand slowness. He is patient with you, not wanting anyone to perish, but everyone to come to repentance." (2 Peter 3:8-9, NIV)
The Apostle Peter is talking about salvation in this passage. He's reminding his listeners that God understands us and is patient with us. He's affirming God's mercy and love, reminding them that the Lord doesn't want anyone to perish. God's gift of salvation is offered to everyone who will believe in and love Jesus, our Lord and Savior.
Peter was declaring the Day of the Lord, asserting that God will return according to His perfect timing. And he's telling us to be ready, to be on our guard, living in righteousness and growing "in the grace and knowledge of our Lord and Savior Jesus Christ" (2 Peter 318, NIV).
But this verse also reminds me that if God, the Maker of the Universe, is patient with us, how can I be impatient with Him?
I believe the Lord hears our prayers and cares about the details of our lives. He is good, faithful, and always working for the good of all who love Him.
God is always right on time, even when His watch isn't synchronized with mine!
Hallelujah!
When we're waiting on God to answer a prayer, we can be sure that He will show up in the nick of time!
I'll be buying Karen O'Connor's book with a Kindle Fire gift certificate I received last Christmas. I'm ready to be inspired and encouraged as I wait expectantly for God to move in our situation.
How about you? What verses help strengthen your resolve when you're waiting on God to answer a prayer or entrusting Him with your longsuffering?
—–