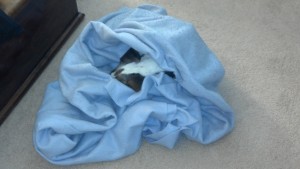 "For in the day of trouble he will keep me safe in his dwelling; he will hide me in the shelter of his tabernacle and set me high upon a rock." (Psalm 27:5, NIV)
As Jazzy's master, I've been attentive and faithful in meeting her needs ever since she was a pup.
She's not a whiner. She doesn't bark when I'm taking too long to acknowledge her. She just sits in front of me, staring at me, waiting for me to figure out what she wants, even though I've proven to only give her what she needs.
Sometimes, she'll use her front paw to get my attention, especially when there's a possibility of cuddle time or when there's a blanket involved.
As my sweet pup tucks her nose under the covers, I think of how the Lord has always come through for me, how He's wrapped me in His love and grace during the coldest, darkest times of my life, how He's given me peace when there was nothing but chaos all around me.
The Bible tells us exactly how to achieve that glorious peace that makes us feel safe in the days of trouble.
Psalm 27:4 (NIV) says: "One thing I ask of the LORD, this is what I seek: that I may dwell in the house of the LORD all the days of my life, to gaze upon the beauty of the LORD and to seek him in his temple."
When we armor up daily, and practice wielding God's sword of truth we'll be ready for those times when we're caught up in the heat of battle.
We can't wait until we're in crisis to seek the Lord. We need to spend all the days of our lives in His presence, saturating our hearts with His Word, practicing obedience as He molds our faith.
Lord, please give us willing hearts and courageous faith as You empower us to change our behavior or our situation. When we're afraid of what might happen as a result of our radical commitment to You, help us trust that obedience to Your Holy Word leads to security in Your presence, which is all we need to feel safe in any day of trouble. In Jesus' name, Amen
What will you commit to, today, that will help you practice God's presence daily, so that you will be armored up and ready for battle in this world at war with God?
—–