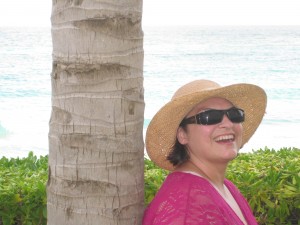 Rejoicing in the pain? Absolutely! But only because the power of the Holy Spirit is drawing my focus beyond myself. Hallelujah!
God has been using an old injury to remind me of the command to pray continually (1 Thessalonians 5:17). As I lay bedridden for several days last week, I realized I had stopped seeking the help of doctors because I was tired of hearing that nothing could be done to relieve my pain.
I stopped seeking the help of the Great Physician because I believed nothing could be done.
As I considered my husband's request for me to make an appointment with a new doctor, I admitted I wasn't really content with living with the pain. I was merely tired of asking for help and discouraged from being let down time after time after time.
Even though I didn't blame God, or live in negativity as I sucked up the daily pain, I still hid behind a curtain of contentment. I cried out to Him on the real bad days. But, I reasoned that if I continued praying for healing and seeking new doctors I wasn't accepting God's will for me.
I truly thought this suffering was a thorn in my side intended to keep me humble and dependent on the Lord.
It wasn't until I wrote the previous sentence that I realized how ridiculous it is to try to figure out what God is up to. But, praise the Lord for His endless grace.
Last week, I wrote "What's Hiding Behind Your Curtain of Contentment." And last week, I fell at the mercy of God's throne. Well, I was actually laid out and unable to move so I didn't really have to fall. The point is I committed to praying without ceasing!
I poured out my heart before the Lord, not worrying about how impossible the situation seemed, and scheduled my appointment with the specialist. I marched into his office with hope, armored with prayers as twenty years of discouragement tried to seep back into my mind.
Instead of giving into hopelessness, I experienced a revival in my heart.
I prayed through the entire appointment, even as the doctor contemplated my symptoms in silence.
The doctor gave me a preliminary diagnosis and referred me to a Thoracic specialist. If the diagnosis is confirmed, we'll discuss the surgical procedure that could finally bring me relief.
Regardless of what happens now, I'm praising the Lord for the glimpse of hope and the reminder that giving up, especially in the ministry of prayer, is never the answer.
Praying continually is an expression of our trust in God. I'm not talking about the name it and claim it game, which is not supported by Scripture in any way. I'm talking about allowing the Spirit to transform our wills with God's and laying all of our requests before Him.
Prayers that surrender to God's will prove we believe He knows what's best for us.
He cares about the big things and the little things in our lives. When we share our heart's deepest desires with Him through prayer, we're demonstrating confidence in His ability and goodness. We're living in obedience to His Word!
We can't come to the altar with the intent of manipulating God. "Lord, if you just say 'yes,' I'll do whatever you want." What God wants is a heart fully surrendered to Him, complete devotion and obedience to His Word.
I continue to ask the Lord to show me what else I've stopped praying about because of unbelief concealed behind a curtain of surface contentment? A prodigal? A need for healing? A dying relationship? A lost loved one?
God blesses us with every day miracles!
God is mighty and in control!
God is faithful and good!
Consistency and boldness in prayer displays the depth of our trust in Who God is!
"In the morning, O LORD, you hear my voice; in the morning I lay my requests before you and wait in expectation." (Psalm 5:3, NIV)
I don't know what to expect from my next doctor's visit, which is today. I don't know if I'm going to have surgery or if it will be ruled out as an option.
But I do know I'm going to be empowered by the Holy Spirit to remain relentless in prayer and courageous in obedience to God's nudging.
Not my will but Yours be done, Lord!
—–
What longstanding prayer, which you may have given up on, are you willing to surrender into God's capable hands?
Please share your requests so we can join you in grateful praise and expectant prayer.
—–